25th September 2017
A Night to Shine for Carly's challenge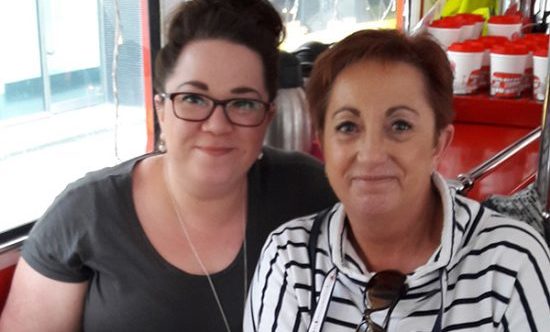 Mother and daughter team, Sandra and Carly Wright, are rising to the challenge for Pilgrims Hospices on Saturday 30th September for A Night to Shine in Canterbury.
Carly, 29, from Hawkinge explains: "I have decided to take part in this event to raise much needed and valued funds for the Pilgrims Hospices and as a personal challenge to complete my first 5k! I am on a journey of losing weight and I'm half a pound away from four stone now over the last year. This is my first real venture into anything active.
"Pilgrims Hospices is a charity very close to my heart, it is where my Grandad was due to be going, but he very sadly passed before this was possible. The service is provided free of charge and offers much needed peace of mind at times of such despair that I like to feel this is an extremely worthwhile cause to raise funds for. The donations I have received already attest to this. It is a charity much loved and supported all over our County and I regularly help out with collecting and marshaling events where possible to feel like I can be a part of keeping the Hospices open to help as many people as possible."
Mum Sandra will be supporting Carly on the 5k walk in Canterbury. She added: "I lost both my parents to Cancer and although they didn't have to chance to benefit from Pilgrims care, I see the work that the team at the hospice do and want to do all I can to support it."
You can help Carly with fundraising by sponsoring her Just Giving page.
With walks happening simultaneously in Canterbury, Ashford and Broadstairs it really will be a night to shine in east Kent.
A Night to Shine is Pilgrims Hospices brand new sponsored 5k, 8k or 10k walk in Ashford, Broadstairs and Canterbury on Saturday 30 September 2017.
At each town walkers will enjoy music, a party atmosphere, energetic warm up and lots more, before setting off simultaneously into the evening at 7pm; amid a sea of lantern light. Your on the day £20 entry (£15 under 18's) includes a t-shirt, lantern, medal and more.
You can find details on Pilgrims A Night To Shine fundraising walk here, or contact Pilgrims Hospices events team on 01227 782062 shine@pilgrimshospices.org.
Ashford: Julie Rose Stadium, Willesborough Road, Ashford TN24 9QX
Broadstairs: The Pavilion, Harbour Street, Broadstairs CT10 1EU
Canterbury: Canterbury Christchurch University, Pilgrims Way, Canterbury CT1 1PH
Each year Pilgrims supports hundreds of local people coping with a life limiting illness and their families. The charity offers a range of services: from end of life care given on its wards, to its new Wellbeing and Social Programme supporting people after they are diagnosed to live well and stay independent.