25th August 2017
Minster landlords and Dave the dog present cheque to Pilgrims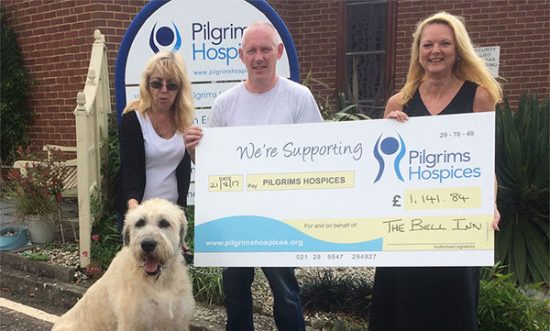 Pilgrims Hospices won the hearts of regulars at the Bell Inn in Minster who have raised an amazing £1,141.84 for their favourite local charity. They raised the money by holding an 80's disco charity evening.
Landlady and Landlord Fiona and Ken Shewring with Dave their four-year-old Irish Wolf Hound presented the cheque to Karen Kenward, Community Fundraising Manager for Pilgrims Hospice Thanet.
Fiona said: "A regular visitor to the Bell Inn offered to DJ an 80's disco evening for charity, we asked our customers who they would like to support with the funds raised by the event.
"Pilgrims Hospices came up time and time again. Many of our families, friends and colleagues have needed Pilgrims care, we were very pleased nominate this very important local charity to benefit from our event."
Thank you everyone who joined us to raise such a brilliant sum of money for Pilgrims.
Fiona added: "We held a huge raffle at the event, with some fantastic prizes, many donated by local businesses. Thank you everyone who joined us to help raise such a brilliant sum of money for Pilgrims."
The regulars at the Bell Inn are used to the friendly face of Dave the dog when visiting. He has a well stock biscuit box behind the bar and will always share a paw for his treats.   He's a dog with a healthy appetite and will manage a tin of dog food, two tubs of his favourite biscuits daily and receives a special treat of Sunday lunch whenever he gets a chance.
Karen said: "This really is an amazing amount of money raised by the community in Minster, we cannot thank them enough. A huge thank you to Fiona and Ken for their continued support by way of Pilgrims Hospices collection tins placed on the pub bar."
Karen added: "Dave the dog was a big surprise at the cheque presentation, he has also been entered in the competition to be the poster dog for Pilgrims new fun sponsored doggy walk Paws 4 Pilgrims."
Paws 4 Pilgrims takes place next year, entries close for doggy photos on August 31st. If you would like to upload your dog's photo please do so via Pilgrims Hospice Facebook page.
If you would like more information on events and fundraising for Pilgrims Hospices you can contact Pilgrims fundraising teams they would love to hear form you.
Care is provided from three hospice sites in Ashford, Canterbury and Thanet as well as in patients' own homes. To offer these services to patients and their families the charity must raise £11 million each year from the generous local community.
Each year Pilgrims supports hundreds of local people coping with a life limiting illness and their families. The charity offers a range of services: from end of life care given on its wards, to its new wellbeing and social programme supporting people after they are diagnosed to live well and stay independent.