12th May 2023
If Dying Matters – then it matters at work, too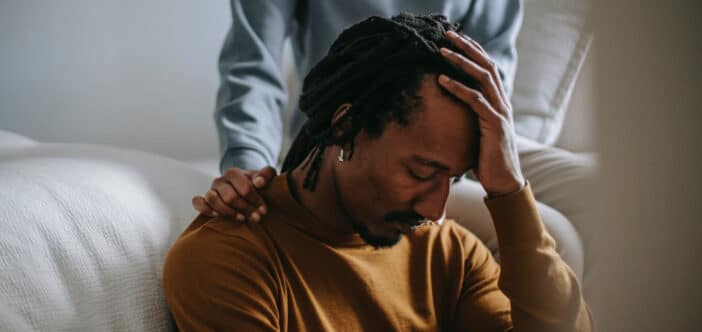 We spend so much of our lives at work, and we shouldn't have to hide our experiences of death and dying from our colleagues, our peers, or our bosses. Starting a conversation about dying is often not as hard as you might think.
---
During Dying Matters Awareness Week, Pilgrims Hospices encourage the community of east Kent to talk about death, dying and grief in the workplace. Each year during the month of May, hospices across the country take time to share support for those struggling with the subject of death and dying. Grief is a natural, normal, and necessary reaction to loss, but one that can feel overwhelming and have a huge impact on someone's life. 
It is estimated that as many as nine people will be affected by the death of one person – family, friends, neighbours or a colleague. At some point, every one of us will experience grief, or know someone who has suffered a bereavement. Information and support from Hospice UK indicate that 57% of employees will have experienced a bereavement in the last five years, and every day, more than 600 people leave work to look after older and disabled relatives. And yet, fewer than one in five managers feel very confident supporting someone they manage with a bereavement.
Sophie Van Walwyk, Pilgrims' Head of Psychosocial and Bereavement Services said:
"The hospices' staff are many and varied, all of whom can at some point be in contact with supporters, shoppers, family members or visitors, who have experienced, or are experiencing sadness due to the loss of someone close to them. We offer any staff and volunteers who regularly have contact with bereaved people, the opportunity to access our Grief Awareness introduction training.
"We are most particularly interested to ensure our retail colleagues, who work in our shops, drive our vans and support with house clearances, can develop communication skills, to support bereaved people who may be distressed whilst using our shops and services. The feedback from colleagues who've been helped to understand how the grief process works, has been really encouraging, so much so, that Pilgrims is launching Grief Awareness Training for businesses and community groups, to help their own staff, and members in supporting colleagues, who are affected by grief following a bereavement. The session includes:
Understanding how the grief process works, what normal grief looks like, and when grief reactions may be unhealthy
Recognising the need for bereavement support and where to turn
Developing communication skills to support bereaved people who may be distressed
The Grief Awareness training course is available on the following dates:
Dates and locations:
Wednesday 12 July 2023, 14:00-17:00 at the Ann Robertson Centre, 55 London Road, Canterbury CT2 8HQ
Thursday 26 October 2023, 16:30-19:30 at the Ann Robertson Centre, 55 London Road, Canterbury CT2 8HQ
Tuesday 30 January 2024, 14:00-17:00 at Pilgrims Hospice Ashford, Hythe Road, Willesborough, Ashford TN24 0NE
Thursday 25 April 2024, 16:30-19:30 at Pilgrims Hospice Ashford, Hythe Road, Willesborough, Ashford TN24 0NE
Cost: £50 per person
To book your place, please email education@pilgrimshospices.org or call 01227 812 616.
Bespoke sessions can be arranged for up to 20 delegates.
If you or someone you know is affected by grief and would like to know more about bereavement support, please visit: pilgrimshospices.org/bereavement-services
---
Each year, Pilgrims Hospices give care and comfort to thousands of people in east Kent who are coming to terms with an illness that sadly cannot be cured. The charity support patients to live life as well as possible until the very end, free from pain and distress.