27th September 2023
Pilgrims Hospices Charity Golf event raises over £10,300 for Hospice Care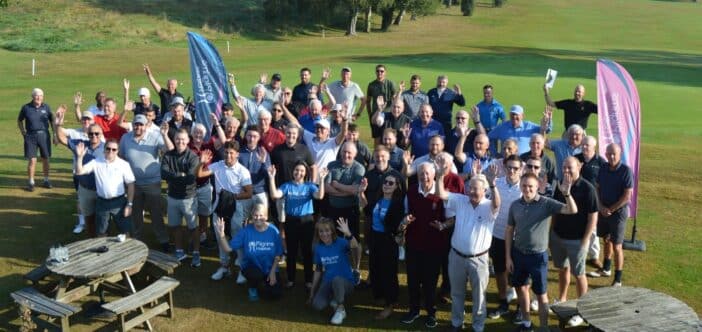 In a day filled with golf, sunshine, and heartfelt speeches, the Pilgrims Hospices Charity Golf Day at Canterbury Golf Club on September 15, 2023, was a resounding success, raising more than £10,300 for hospice care.
The event, featuring a shotgun start, brought together 18 teams of four enthusiastic golfers, all teeing off with a shared goal in mind: to support Pilgrims Hospices in their mission to provide essential care and support for individuals with life-limiting illnesses.
Under the warm and glorious weather, participants showcased their golfing prowess while contributing to a cause close to their hearts. The picturesque Canterbury Golf Club served as the perfect backdrop for a day filled with camaraderie and charitable spirit.
The highlight of the event was the heartfelt speeches delivered by distinguished guests. The Lord Mayor of Canterbury graced the occasion with her presence and expressed her gratitude to the event organisers and participants for their unwavering support of hospice care in the community. CEO Helen Bennett also took the stage, offering words of appreciation for everyone involved, emphasising the vital role Pilgrims Hospices plays in providing comfort and care to those in need.
We are delighted that this year's golf day has raised more than £10,300 – our best one yet!

Leila     –     Pilgrims
"The success of this charity golf event is a testament to the incredible generosity and community spirit that exists within our community," said Helen Bennett, CEO of Pilgrims Hospices. "The funds raised today will make a significant difference in our ability to provide quality hospice care to those who rely on our services."
The day's success wouldn't have been possible without the support of sponsors, including this year's headline sponsors, Bauvill, volunteers, and the enthusiastic participants. Every swing of the golf club and every donation contributed to the overall success of the event and the advancement of hospice care in east Kent.
Event Organiser Leila Ilkhan Pilgrims Corporate and Trusts Partnerships Manager said: "We are delighted that this year's golf day has raised more than £10,300; our best one yet! A huge thank you to all 72 golfers for teeing off for local hospice care and supporting the charity to continue delivering specialist end of life care to people in east Kent."
Pilgrims Hospices extends its heartfelt thanks to all those who participated, sponsored, volunteered, and attended the charity golf day. Your support ensures that individuals with life-limiting illnesses receive the care, compassion, and dignity they deserve.
Leila added: "We also extend our grateful thanks to Canterbury Golf Club, for such a well-maintained golf course, attentive staff, and hospitable grounds people, who certainly enhanced the overall enjoyment of our golfing experience."
For more information about Pilgrims Hospices and their ongoing efforts to provide hospice care, please visit www.pilgrimshospices.org.
About Pilgrims Hospices:
Pilgrims Hospices is a registered charity that provides palliative care and support to individuals with life-limiting illnesses in east Kent. With a mission to ensure that everyone in their community can access compassionate and comprehensive hospice care, Pilgrims Hospices has been dedicated to improving the lives of patients and their families for over 35 years.
---
Each year Pilgrims Hospices give care and comfort to thousands of people in east Kent who are coming to terms with an illness that sadly cannot be cured.  The charity support patients to live life as well as possible until the very end, free from pain and distress.