17th August 2023
Reuse, recycle, upcycle, helping raise funds for Pilgrims'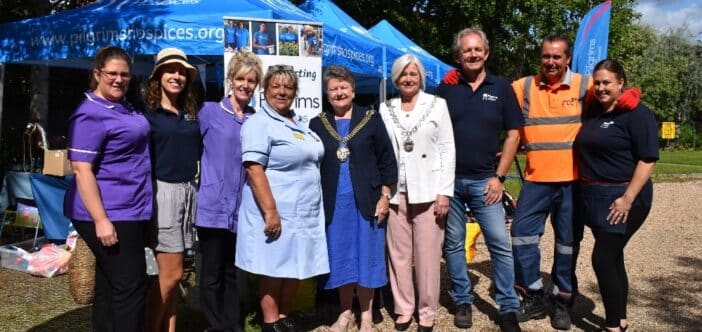 The reuse revolution came to Pilgrims Hospices, Canterbury on Saturday 12th August.  The Reuse Pop-Up  shop, organised and in partnership with FCC Environment and Kent County Council featured solely pre-loved items sold at a fraction of the cost of buying new. Items for sale on the day  included toys, bikes, electricals, furniture, bric-a-brac, garden items and homeware.
The wide array of items were donated by members of the public at Canterbury and Margate Household and Waste Recycling Centres. The concept of recycling and reusing, helps reduce our overall environmental impact.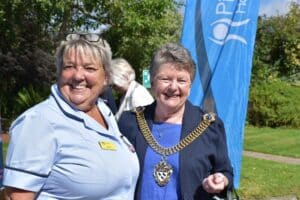 Some of the first visitors were The Right Worshipful, The Lord Mayor, Councillor, Mrs. Jean Butcher and Lady Mayoress, Mrs. Di Baldock who both came along to the see the bargains on offer.
The Pop-Up Shop offered opportunities to pick up a variety of preloved bargains, the main objective of the event is to help prevent waste and reduce carbon emissions generated by manufacturing new products, and to raise important funds for Pilgrims Hospices care.
Kate Duddell, Pilgrims Hospices, Head of Fundraising commented: "There are a huge number of high-quality items that are sent to the local Recycling Centres. The staff at both Canterbury and Margate Centres have a keen eye for detail, and are trained to pick out some of the items that are in good condition, and could be saved to be repurposed, and loved all over again. This can be a great way for people to find affordable goods while contributing to environmental sustainability by reducing the demand for new products, whilst also helping to raise funds."
By choosing to buy preloved items, people can support the concept of recycling and reusing, which helps in reducing the overall environmental impact.
It's commendable that organisations like Pilgrims Hospices and FCC Environment Pop-Up Shops, are promoting such initiatives, and with the support of Kent County Council, the event helped raise awareness about the importance of sustainable consumption and waste reduction.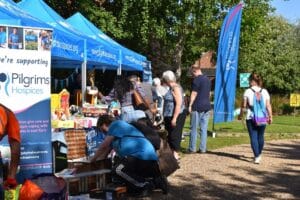 You can continue your sustainable shopping in any of the 31 Pilgrims Hospices shops across east Kent. They stock a wide range of high-quality items, including books, clothes, furniture and vintage curios.
Pilgrims also love to receive donations, so we can turn them into vital funds to support our services. We accept any good quality saleable items including clothes, household goods, furniture, items of interest, electrical items (provided they are  in good working condition) and anything else you think could raise money for Pilgrims.
For information on our retail shops and how to donate click here.
---
Each year Pilgrims Hospices give care and comfort to thousands of people in east Kent who are coming to terms with an illness that sadly cannot be cured.  The charity support patients to live life as well as possible until the very end, free from pain and distress.