11th October 2023
Pilgrims Hospices share workforce stories throughout Hospice Care Week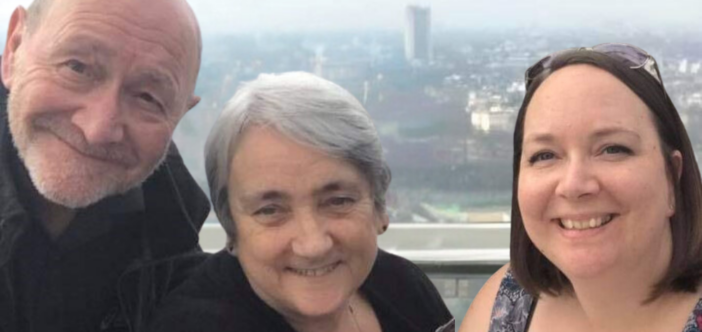 Amy tells us why she has made a career in compassionate care and why Pilgrims is so important to her
When I first came to work at Pilgrims Hospices, it was for a week as a temp while I was in between jobs. A week turned into two, which turned into a month. That was in July 2000 and the rest is history! After a few months covering in different departments, I got a job as a medical secretary at the Canterbury hospice. I really enjoyed that role, and 15 years later was successful recruited to become the hospices Administration Manager. My mum and dad also worked at the hospices.  Mum first, working in the Personnel department and then Dad after me, when he became the maintenance engineer at the Ashford hospice until he retired in 2011.
I had just turned 21 when I started working at Pilgrims, and was fairly naïve about what a hospice was. Throughout the years, I have grown up with the organisation, through lots of changes in my personal and professional life. I have spent my most formative adult years expanding my knowledge on how we deliver end-of-life care. I honestly feel that because of this, the hospice has a special place in my heart. I love what we do; I love how Pilgrims' look after patients and their families, and I think we make a massive difference to those people. Nothing is too much trouble, and we have always done as much as we could to help people with their wishes, large or small, at the end of their life.
One of my proudest moments was when I was a medical secretary; a patient at Pilgrims Day Centre was a keen motorcyclist but was unable to ride anymore. His wish was to be able to just have one more ride on a motorcycle, but being unable to do this himself it needed to be in a sidecar. The team in the day centre came to ask me if I could try and find a way we could do this. I got in touch with some motorcycle clubs around the area, and a kind gentleman made contact saying he had a sidecar, and that it would be a pleasure to take the patient out for a ride. We arranged a meeting one Saturday, it was just amazing to see how excited and happy the patient and his family were that this could be achieved. The man with the sidecar turned out to be Eric Richard, the actor who played PC Bob Cryer in the TV series, The Bill, which added to the amazement! The best part of the day was, the patient had a brilliant time, and was so happy to be able to enjoy a motorcycle ride again.
Having worked for Pilgrims for so long, I always thought I knew everything there was to know about the hospice and the care provided, but I was so wrong. Sadly my mum got cancer and was admitted to the Canterbury hospice for end-of-life care in 2017. To be in that situation – on the other side – now as a relative, was so different to what I'd thought. I was stunned at the level of care and attention the care teams give patients and relatives, and it honestly blew my mind. I had no idea just how deep their treatment went, and the commitment they give to each tiny detail. This made my love of the hospice movement even deeper than it had been. Mum was able to say how she wanted her last days to be, and this was achieved. Although devastating, she had the best death she could have had. This year, unfortunately my dad had a very short illness and was admitted to the Canterbury hospice. Like my mum, he was able to state his wishes; again this was achieved fully, and his death was also just as he wanted. Both were peaceful, with the family, full of the love they deserved.
I could never repay Pilgrims for the wonderful care my parents received, and I fully understand when people say 'a good death'. I don't know what we would have done if we didn't have the hospice to achieve this.
The fact that I experienced this, makes me even more grateful that I work for a charity that helps thousands of patients and their families, all year round. I am extremely proud and humbled to be a part of something that provides a service like this.
---
Working for Pilgrims Hospices:
Whether you support patients and families within our care teams, help to raise vital funds or work in our support services, Pilgrims can offer a very rewarding career.
Working alongside passionate, like-minded and knowledgeable people, a career with Pilgrims provides you with the opportunity to make a real difference to the lives of families within east Kent.
Through providing care, working in our shops or attending events, there are always opportunities to network with other professionals and establish strong relationships within our community.
Alternatively, you might like to volunteer for Pilgrims?
Please explore our opportunities when you click here.