11th October 2023
Pilgrims Hospices share workforce stories throughout Hospice Care Week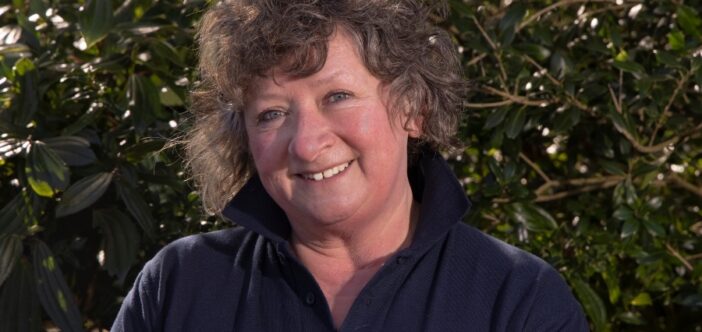 Hello – I'm Shirley, Marketing and Communications Coordinator for Pilgrims Hospices.
I'm passionate about Pilgrims care, and have worked with the marketing team for more than eight years.
Communications and marketing play a crucial role in not only raising awareness about the services and support Pilgrims provide, but also in fostering connections with our community, donors, and volunteers.  Our small team is undoubtedly important to the organisation's overall mission and success.
I love the sense of being part of the bigger picture

Shirley     –     Pilgrims
Here's why my role helps people to live well in every moment:
Raising Awareness

: being involved with creative marketing campaigns that inform the community about the services and care offered by Pilgrims Hospices. This awareness can lead to more people accessing our services when they or their loved ones are in need.

Fundraising

: effective communications and marketing are instrumental in attracting donors and sponsors. My work contributes to securing the necessary funds to support the charity's operations and expansion.
Volunteer Engagement: volunteers are often the backbone of hospice care organisations. My role often involves engaging with volunteers, which is essential for providing personalised care and support.  Without our volunteers we would not be able to provide the dedicated services to so many people.

Community Engagement

: hospices are deeply rooted in the community. When I write articles and stories to support our services, I'm fostering relationships with community members and organisations. These relationships can lead to partnerships, donations, and additional support.

Patient and Family Support

: effective communications can help patients and their families better understand the hospice care process, services available, and what to expect. This can reduce stress during a challenging time.
In my eight years with the charity, I've seen my role evolve and grow. With experience and expertise, I make a valuable contribution to the marketing team and the charity as a whole.
I love the sense of being part of the bigger picture, it's crucial that all team members understand the charity's mission, and their role in fulfilling it. When everyone feels connected to the overarching goal of delivering the best care possible, it fosters a sense of purpose and unity. This alignment of purpose can lead to increased job satisfaction, higher morale, and ultimately better patient care.
My role is integral to Pilgrims Hospices, and truly believe that my dedication and commitment over the past years, demonstrates a valuable contribution to providing the best care to those who need it.
If you think you have the qualities to support a local charity, who provide a vital service within the community, you should consider Pilgrims Hospices.  Whether your skills lie in care, support and maintenance, fundraising or any number of roles for Pilgrims, please look at our current vacancies, click here.  
---
Each year, Pilgrims Hospices give care and comfort to thousands of people in east Kent coming to terms with an illness that sadly cannot be cured. The charity supports patients to live life as well as possible until the very end, free from pain and distress. Care is provided from three hospice sites in Ashford, Canterbury and Thanet, as well as in patients' own homes. To offer these services to patients and their families, the charity must raise £11 million each year from the generous local community.