7th February 2018
"Have that conversation, help is at hand for your family"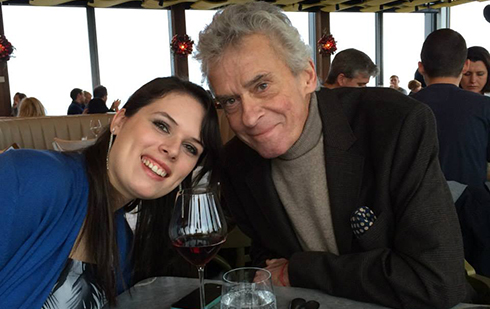 Pilgrims care extends beyond the person who is ill to include their family and friends. Families coping with a terminal illness can be empowered to have the conversations they need to make the most of the time they have. Here Holly Cooke from Ashford shares her story.
I was 21 when Dad was diagnosed with cancer. He was mad keen on golf and always at the club helping with charity events. Everyone he knew was stunned when he got ill because he was such a fit and healthy man. When it's your Dad you don't know what to do.
Support to stay independent
We formed a close connection with Pauline his doctor, it was a collaborative approach and it made such a difference being listened to. It's really important to be able to manage your own illness. Dad was fiercely independent and to have that support until the last minute meant he could make his own choices about his care. He was an incredible man.
He came for courses of pain management support for over a year and had specialist massages from the Pilgrims complimentary therapist.
While Dad was seeing the specialists, Mum was given the option to use the support groups, although she didn't attend due to the support and advice given by the doctors and nurses at the hospice. It was a relief to know she was getting what she needed to give her the strength to care for him. We could do things as a family in that time we had together.
"We could do things as a family in that time we had together."
I would not change the way Dad went in the end. He had been give a prognosis of anywhere from a few months to 18 – in the end he lived for 16 which was brilliant. It was definitely down to the care he received at Pilgrims that we could do things as a family in that time we had together.
We felt safe at the hospice
On the Friday before he died Dad went for a three mile walk, he was still feeling fit and active. I remember him sitting out in the garden in the sun reading the newspaper.
Then on the Saturday, the day before he died, he couldn't get out of bed but we were watching films together. He was really with us, laughing and joking.
In the end he wasn't on the hospice ward long. I was at work when I got the call that he had been taken in and within an hour and a half he had died.
We were in shock  but the ward sister was brilliant. She gave us a private room. It was all very calm and we felt like we were in safe hands.
The care for our family didn't end when Dad died, we were offered support and Mum was supported by a hospice counsellor.
If I could speak to other people in my situation or Dad's who don't think the hospice can help or who's scared of going  – I would say just go and speak to them, have that conversation.
So many people are scared because they think it's going to be a sad place. What they don't see is that when you get there you will see beautiful gardens to walk in, there's a lovely chapel and people smile at you. No one is sad because they are in the right place.
If you or someone you know is living with a life-limiting illness there is a wide range of support and services available. Talk to your GP or click here to find out more.