30th November 2023
A message from Pilgrims Hospices on the death of Ann Robertson, founder and lifetime president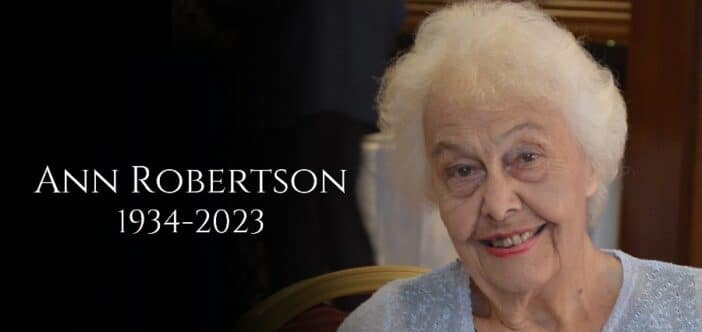 It is with great sadness that Pilgrims Hospices shares the news that its founder and lifetime president of the charity, Ann Robertson, has died.
Ann, who was 89 years old, died peacefully on 7 November after a short stay at the William Harvey Hospital, where she was supported by both the hospital and hospice specialist palliative care teams. She was a visionary local nurse who wanted to make a difference for the people in her community facing terminal illness. Thanks to her devotion, Pilgrims Hospices has been giving end-of-life care to our community in east Kent, for more than 40 years.
In an interview in June 2022, Ann said, "The story of Pilgrims is not just a historical chronicle; it is a tribute to the faith of the early pioneers, the spirit of the patients and their families who inspired its inception, and the skill and dedication of the staff, volunteers, and fundraisers who have worked tirelessly to keep the ship afloat over the past 40 years. It is a positive example of a small acorn giving birth to mighty oak trees."
Pilgrims Hospices is Ann's legacy, and she would be happy to know that the charity will continue to offer its end-of-life care services to everyone in east Kent who needs its support.
Helen Bennett, CEO, said:
"I have been privileged and proud to work with our remarkable founder, Ann, helping to shape her vision for end-of-life care for our east Kent community. When Ann welcomed Her Majesty Queen Elizabeth the Queen Mother to oversee the opening of our Canterbury hospice in 1982, the possibility of opening two more hospices in Ashford and Thanet was not part of Ann's plan. Her drive and determination very quickly proved there was a need for two further hospices, and our community came out to support us, fundraising to generate the money needed to build our Margate (1992) and Ashford (2001) hospices."
Karen Warden, Chair of Trustees, said:
"On behalf of Pilgrims' Board of Trustees, we are greatly saddened by the news of Ann's death. Many of us have fond memories of Ann, her drive, determination, and wit. We are all proud to have been part of her vision and her remarkable achievements. She was an inspirational woman who maintained strong connections with Pilgrims and continued to be instrumental in steering the charity to achieve great things up until the end of her life. Our hearts and thoughts are with Ann's family at this time."