25th July 2022
Lottery member Lynette gives back to Pilgrims Hospices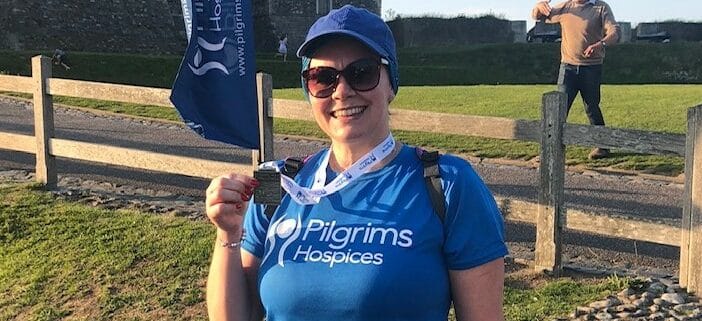 Lynette Young from Chartfields in the Kingsnorth area of Ashford is a long-time supporter of Pilgrims Hospices; she has played the charity's

Lottery

for 10 years and taken part in several fundraising events, raising more than £2,000 for local hospice care.

 
---
Having seen close friends benefit from Pilgrims' vital services, Lynette is inspired to give back and support the local hospice charity however she can.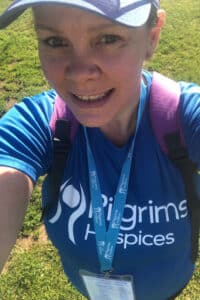 She said: "Pilgrims is such a great place, and you never know who might need it. Two very close friends have had loved ones pass away at the Ashford hospice – in 2017, and just this year in January 2022. I know everyone there is fabulous, warm and caring, and I truly believe you never know what is around the corner. It is a great local charity here in east Kent."
Lynette joined Pilgrims Hospices Lottery after the charity gave a talk at her workplace. She has been a lucky Lottery winner and inspired friends to join, too. She gave some of her winnings to her eldest daughter and her boyfriend to put towards their first home, and is saving the rest to do something special with her family.
Lynette has also raised money for Pilgrims through taking part in events, including night-time walks and the Pilgrims Way Challenge.
She continued: "I'm incredibly lucky to have supportive family and friends. When I share my fundraising on Facebook, so many amazing people donate – I can only put this down to them knowing how much I try to support Pilgrims and also that I love a challenge!
"I'm a true believer in supporting local and as a local charity, Pilgrims is close to my heart. They really are brilliant. I know the money I raise will help to keep hospice services running."
Shiralee Riddell, Lottery Manager, said: "Thank you for your continued kind support of the work of Pilgrims Hospices, Lynette; you really do make a difference to so many local people."
Fancy trying your luck with Pilgrims Hospices Lottery?
Join the local hospice lottery that really does make a difference.
---
Pilgrims Hospices cares for thousands of local people each year, free of charge, during the most challenging time in their lives. They offer care and support in people's own homes, in the community and in their inpatient units as well as running a 24-hour advice line.