28th July 2023
Happy 1st Birthday to Store50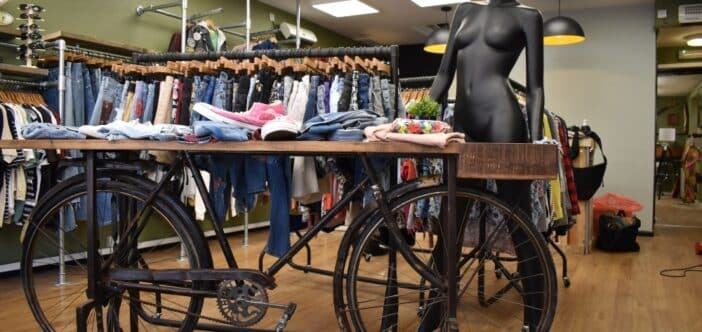 After a dynamic year of trading, Store50, Pilgrims Hospices' newest shop, celebrates its 1st Birthday on Friday 4th August. Located at 50 St. Peter's Street, Canterbury, in the heart of the city, the charity shop really has taken pre-loved fashion to the next level.  While aiming to make second-hand fashion affordable, chic and eco-friendly at the same time, Store50 has sold goods to the sum of £151,568.08 in its first year of trading.
In the busy year of stocking a diverse range of clothing for all, with a focus on 'slow fashion', advocating respect for people and the environment, often through reducing, reusing and recycling, rather than purchasing new items.  This trendy little shop has served more than 16,500 customers, and sold almost 28,000 items, whilst saving large quantities of clothing from being sent to land fill.
As part of the birthday celebrations, and to thank our customers, we are giving FREE goody bags; to every customer that purchases on the 4th August. As sustainability is the main focus of Store50, all bags will contain pre-loved items for shoppers.
The store will also be celebrating the success of sportswear sales, by opening a brand new stand along department for branded and chic sports gear. The sportswear hub for savvy Pilgrims shoppers, will be located in the rear of the shop.
The shop has eight volunteers who support across all elements of the retail shop, helping the manger Amy Eldridge to keep the stock vibrant, tagged, sized and priced and steaming ready for sale.
Mandy Hawkett, Retail Area Manager said: "We are so proud of our volunteers, with their support we are achieving something very special for local shoppers, and raising funds for hospice care within the local community.  We really appreciate everything they do, and would like to take this opportunity to thank them publicly. The volunteers run the till, meet and greet customers, tidy the shop floor, and keep our shelves stocked.  They are always smiling and welcoming; they are the face that customers' see when they walk through our shop doorway.  We couldn't run our store without their amazing efforts!
Although we thought the shop would particularly appeal to Canterbury's thriving student population, we are delighted to say our trendy threads appeal to everyone's budget and suit every wardrobe, our customers come from all walks of life.
Currently trending on our rails are dresses, sportswear and the ever popular rag denim, were you can purchase items from as little as £3.
We're very excited to be launching the new sportwear department.  We hope that by encouraging shoppers to thrift, and be mindful about their purchases, we can help to build a more sustainable retail economy that benefits people and our planet. By shopping with us, you will help to stop items going to landfill, save precious pennies, and also contribute to Pilgrims' vital services across east Kent – supporting our charity to provide compassionate care to patients and families where and when they need it the most.
Don't forget to bring your student card, you will receive 10% discount too!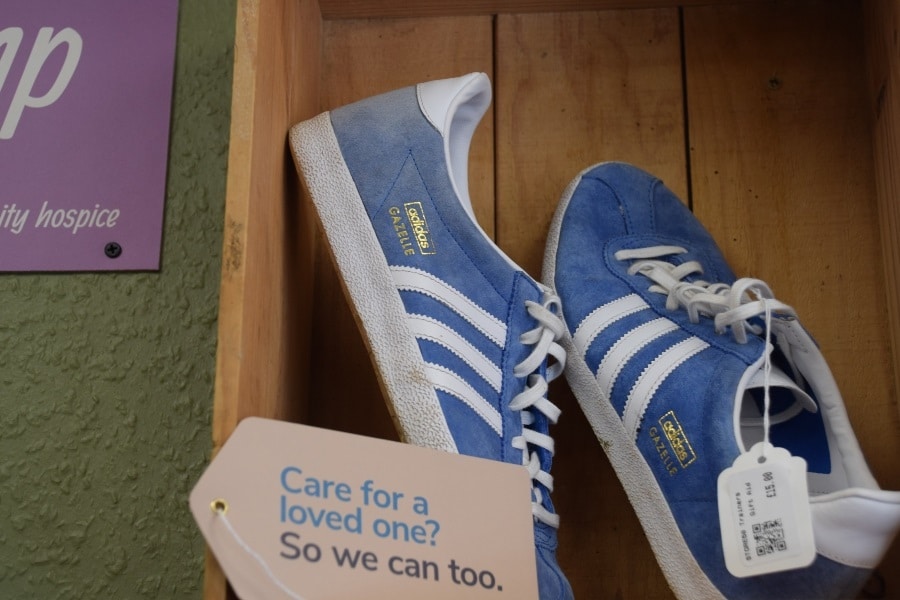 Store50 is open 10:00-18:00 Monday-Saturday and 10:00-16:00 on Sundays.
Follow @pilgrimsshops_store50 on Instagram
Join the Store50 Facebook group
Tag us on social media using #pilgrimsshops and #store50thrifts.
Do you have a passion for slow fashion and a love for all things local?
Store50 is looking for volunteers to join its growing team, and they'd love to hear from you!
To find out more and apply, click here, call Amy on 07983 131 627 or email amy.eldridge@pilgrimshospices.org.
---
Pilgrims Hospices care for thousands of local people each year, free of charge, during the most challenging time in their lives. They offer care and support in people's own homes, in the community, and in their inpatient units as well as running a 24-hour advice line.