9th August 2023
Grab a bargain at Kent's second Pop-up Reuse Shop at Pilgrims Hospices this Weekend!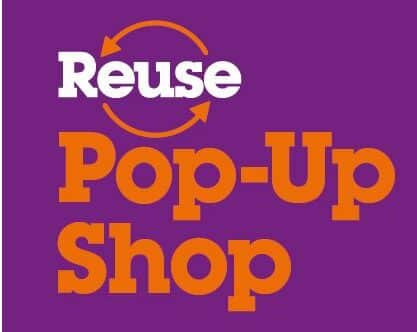 On Saturday 12th August, FCC Environment and Pilgrims Hospices will be hosting Kent's second pop-up reuse shop from 10am-2pm at Pilgrims Hospices, 56 London Road, Canterbury, Kent CT2 8JA.
There will be a variety of good quality, preloved items to purchase at the pop-up shop which will be available at a fraction of the cost of buying new. Items for sale on the day will include toys, bikes, electricals, furniture, garden and homeware.
This event follows on from the success of Kent's first pop-up reuse shop held at Canterbury Household Waste and Recycling Centre where over half a tonne of pre-loved items were sold to help raise funds for the hospice.
Kate Duddell, Head of Fundraising and Projects at Pilgrims Hospices commented, "There are a huge number of high quality items that are sent to the local Household Waste Recycling Centres. The teams from FFC Environment have a keen eye for detail and are trained to pick out some of the items that are in good condition and could be saved to be repurposed and loved all over again."
The concept of recycling and reusing, helps reduce our overall environmental impact

Kate   –   Pilgrims
"The vast variety of items donated by members of the public at the Centres will then be sold at the Reuse Pop-Up Shop to help raise funds for local hospice care. The concept of recycling and reusing, helps reduce our overall environmental impact. Additionally, this can be a great way for people to find affordable goods while contributing to environmental sustainability by reducing the demand for new products. We're pleased to be working in partnership with Kent County Council and FCC Environment on this sustainable initiative, whilst also raising awareness about the importance of Pilgrims end-of-life care for the east Kent community."
Joanne Fordham, FCC Environment's Contract Manager for Mid & East Kent added, "Since introducing the reuse containers at Margate and Canterbury Recycling Centres we have been amazed by the huge number of good quality items kindly donated by members of the public. This is not only fantastic for the environment as it is diverting waste, but it is also preventing the CO2 emissions associated with the manufacture of new products. I am proud of the team's achievements and excited to expand the reuse revolution to more recycling centres in Kent soon!"
---
Pilgrims Hospices cares for thousands of local people each year, free of charge, during the most challenging time in their lives. They offer care and support in people's own homes, in the community and in their inpatient units as well as running a 24-hour advice line.