26th October 2023
Steve finds hope and community at Pilgrims Hospices: A Journey with Cystic Fibrosis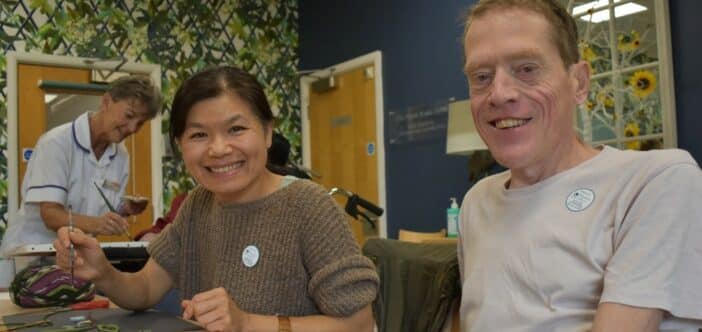 Steve Carter from Ashford attends Pilgrims Hospices Wellbeing sessions at the Ashford hospice.  He has cystic fibrosis and attends the therapy centre groups with his wife Thep, who is his full time carer.
Steve's journey with cystic fibrosis has been tough and long, but he has found relief with the support of Pilgrims, and now enjoys his time meeting others using the therapy services.
Steve explained: "Over recent years as my illness has become worse, I've spent lots of time in King's College Hospital in London: last year, I had to go there four times totalling over six months.  They have been very difficult times.  As a long stay patient, I have my own room, my wife Thep, is able to stay with me, which is a great comfort and support.  Travelling to London in itself is challenging, stressful and exhausting. I am now on oxygen and a ventilator at night, and at periods in the day too, depending on my state of health.
The therapy sessions are a great boost to my week.

Steve Carter
When asked, how he had come to spend time at Pilgrims Hospices, Steve explained, that he had been an inpatient around three years ago, having spent time in hospital, after an episode, he said: "I was in a very dark place, and felt I wasn't able to carry on; I was referred to Pilgrims Hospices, who gently managed to get my symptoms under control, and I began to feel better. I am much more well now in comparison to last year; I really did feel on the edge of death. I'm now back at home with my wife, and attending the hospice therapy centre during the week, which is really helping.
"The therapy sessions are a great boost to my week, it's great to come to Pilgrims. Getting out is an important part of my wellbeing, and mental health too, and I meet some lovely people, including other service users, Pilgrims staff and volunteers.
"This year has been a really good year for me, being here at Pilgrims takes my mind away from my illness, and I get absorbed in what I'm doing, which is really refreshing.
"As part of the Time to Create group, there are lots of crafts to undertake, many I'm trying for the first time. I'm not really very artistic but if someone helps me with an idea I can get going and really enjoy it. I've been watching some art programmes on TV, which have been  useful when I'm trying to improve my skills.
"It's so good to come and talk to people, it's very easy to become isolated when you can't get out much, especially during the winter. The group is always fun and full of laughter and chatter, it's a very social experience. My wife Thep comes along too, and we both get involved with all sorts of art projects.
We have lived in Ashford for a number of years, so not too far for us to come along, and share some special time with the Pilgrims team, and those using the Wellbeing programme.  I didn't know there were so many options available, the support and help that we both receive is truly amazing."
Thank you for sharing your story Steve, you are raising awareness of our services, and we are so pleased you are enjoying your time with the Time to Create group.
---
Each year Pilgrims supports thousands of local people coping with a life-limiting illness and their families. The charity offers a range of services: from end-of-life care given on its wards, to its Wellbeing Programme supporting people after they are diagnosed to live well and stay independent.