6th November 2020
Adding to Pilgrims five a day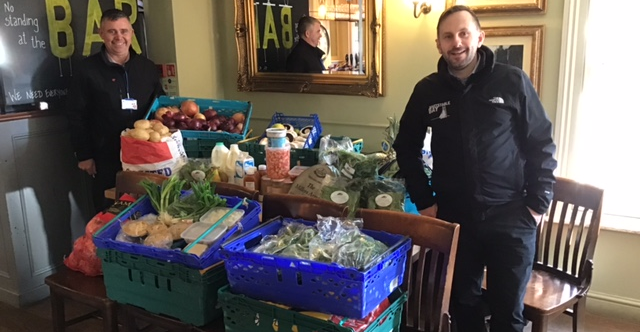 This week  Pilgrims Hospices would like to send a huge thank you to the Shepherd Neame pubs of Canterbury and Faversham for donating fresh ingredients to the kitchens as lockdown came in to place on 5th November.
We are delighted to donate our stock of fresh produce to Pilgrims Hospices

Gareth Finney, Shepherd Neame
Gareth Finney, Shepherd Neame's Development Chef, coordinated the local hostelries to deliver their fresh fruit and vegetables to the Millers Arms in Canterbury where Ian Ashton, Pilgrims Catering Manager was ready to welcome the donation and arrange distribution to all three hospice sites in Ashford, Canterbury and Thanet.
The famous Faversham brewers have been supporters of local charities for many years and Gareth said:  "We are delighted to donate our stock of fresh produce to Pilgrims Hospices;  we would not wish to see the goods wasted and know that Ian and his catering team will be able to make good use of what's available."
Ian said: "We are very  grateful for the continued support of Shepherd Neame, on average we need to provide nutritious meals for 600 patients each week, along with meals for our care team and the staff who are working on site throughout the pandemic.   We cater for a wide variety of dietary requirements for our end-of-life patients'.  This generous donation will help resources go that little bit further in these difficult and challenging times."
---
The hospices receive an annual NHS contribution of approximately 20% of the funds required to run the hospices, which is reviewed each year. The remaining costs have to be generated through fundraising and donations.  If you would like to find out more, and help Pilgrims to provide a continued services for the people of east Kent who need care the most, please visit Contact Us. Pilgrims would love to hear from you.