1st August 2023
Pilgrims Hospices Summer Fair Success at Sandyacres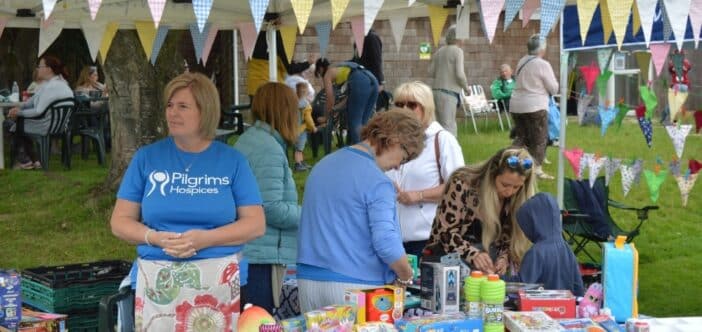 Despite the rain and emergency road closures hundreds still attended the Pilgrims Hospices annual Summer Fair on Sunday 30th July held at Sandyacres Sports and Social Club where over £11,000 was raised for the local charity.
Although Mother Nature didn't play 'fair' on the day as the rain set in, people of all ages still travelled from miles around in the hopes of winning prizes and bagging bargains.  Hospice staff and volunteers manned over 30 stalls, featuring games like the famous Bottle Tombola, Tin Can Alley, Paper Plane game and Pilgrims Putting.
We couldn't be more grateful to all our supporters

Louise  –  Pilgrims
Faversham Ices also kindly sold ice creams – which were unsurprisingly popular on the day – donated by Consort so that 100% of the sales went to the hospice.
Many local companies showed their support and donated towards the Grand Draw. Buckhurst Luxury Shepherds Huts kindly donated a night's stay, Rocksalt and Boys Hall also both very generously gave a £100 voucher. The Bottle Tombola and Bottle Fishing wouldn't have been possible without K and L Wines and Spirits UK Ltd very kindly sponsoring the games and donating 60 bottles of their delicious wine.
Magician Geoff Partner amazed the crowds with his magic tricks and Deadpool Dan wowed visitors with his American Superhero costume.
Pilgrims Community Fundraising Manager for Ashford, Louise Newman, said: "We couldn't be more grateful to all our supporters, for going the extra mile, and still volunteering or visiting on the day despite the rain and unforeseen challenges we faced.  As a local hospice we are always so moved by the generosity of our communities.  Whether people donated items or offered to lend a hand on the day their kindness and dedication all adds up to make a huge difference for our patients.
Special thanks to AnnMarie Fuggle from Sandyacres Sports and Social Club who donated the use of the venue and supported the event from start to finish.
Over 90 volunteers joined forces before, during and after the event to ensure its success and we are especially grateful for their ongoing support.  On behalf of everyone who benefits from our services, may I say a huge thank you to all of the people who helped to make our Summer Fair possible."
The hospice's next fundraising event is the Folkestone Downs Challenge. The 36km hiking event, with the  route designed to showcase the very best of Kent's spectacular south coast will be held on Saturday 2nd September. For more details visit:  Folkestone Downs Challenge 2023.
---
Your support means everything to the people we care for. Around 80% of our funding comes from the generous community. With your help we can continue to offer quality end-of-life care and our full range of wellbeing activities. Thank you.