23rd July 2019
Garden planters make blooming good therapy
A generous donation from a garden centre has made a hands-on project for patients at Pilgrims Hospice Ashford. The care team provides a variety of wellbeing sessions, ideal for helping service users to remain active and independent.
---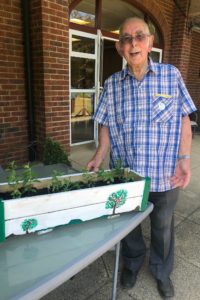 Leanne Clark, Pilgrims Hospices Wellbeing Practitioner, approached Longacres Garden Centre for a donation of planters to create an engaging project for some of the gentlemen group members. She said: "I was delighted to receive a message from Claire Wilkes, Charities and Events Co-Ordinator at Longacres head office, offering 11 planters for our creative groups.
"The aim was for anyone green-fingered in our Time to Create or Living Well Group to decorate one and we would help them to fill with plants. They are welcome to take the planters home or leave them to be part of the patio display outside the Therapy Centre for everyone to enjoy."
You can see some of the beautiful handy work if you visit Pilgrims Hospices Summer Garden Party being held in the Ashford hospice gardens on Saturday 3 August, 11 am – 4 pm.
This year, as well as all the many traditional tombolas and fair games for all the family, there will be some fantastic perfume and other bargains to be had on the Pilgrims marketplace stall, as well, of course, as delicious savouries and homemade cakes in the vintage style refreshments tent.
---
If you or someone you know is coping with a life-limiting illness and you think you may benefit from Pilgrims support, talk to your GP or Healthcare Professional about the options or click here to read about our Wellbeing Programme.