7th February 2023
Celebration Prize Draw raised £57,000 in it's milestone 40th year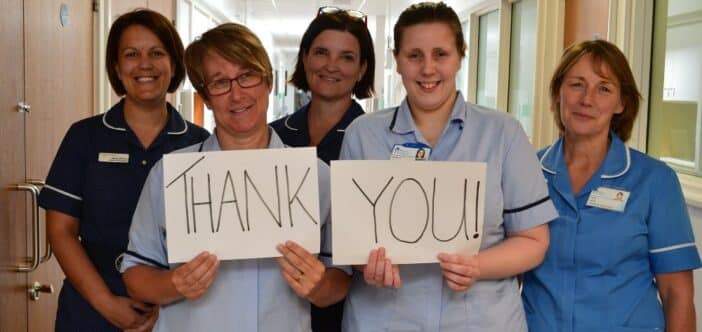 There's nothing quite like taking part in a prize draw, especially if you know your contribution is helping a local charity to provide valuable care and support for people in your community.
---
Pilgrims Hospices celebrates 40 years of end-of-life care, and is delighted to announce the Celebration Prize Draw raised an incredible £57,000 for patient care across east Kent.
Shiralee Riddell, Pilgrims Lottery Manager said: "It's a milestone year for the hospices, and with the support of the thousands of people who purchased tickets, and took part in our Celebratory 40th Prize Draw; we know we're helping even more people to live well in every moment, in their own homes and in our hospice wards."
Congratulations to our big prize winners:
Mrs V from Ashford winning £2,040
Mr F from Herne Bay winning £1,040
Miss P from Canterbury winning £540
100s of smaller cash prizes were won, with all lucky prize winners receiving their cheques before Christmas
Shiralee added: "We would also like to thank all of our members new and old. More than 3,000 additional or new entries have been taken out to support your local hospices in this last year alone.  We now have more than 21,000 members thanks to our fabulous team, and the tremendous support for our wonderful hospices from the community.
It's a milestone year for the hospices

Shiralee, Pilgrims Lottery Manager
"Our lucky winners across the year have told us of the difference their wins have made to them, from long awaited travel plans to finally see loved ones, to parties for those big birthdays and anniversaries, to treating family and friends. All delighted and pleasantly surprised to have a win whilst supporting your very special Pilgrims Hospices. Over 5,500 cash prizes have been sent out in the last year alone.
"Thank you to all who treated loved ones, bought tickets, promoted products, collected and paid subscriptions, sold scratch cards and joined our weekly Lottery. We really couldn't do it without you."
£25 pays for one full hour of compassionate care by a specialist nurse. Together, we really do make a difference.
If you would like to join Pilgrims Hospices Lottery, please call 01227 379 741 or click here to join now.
---
Each year Pilgrims Hospices give care and comfort to thousands of people in east Kent who are coming to terms with an illness that sadly cannot be cured. The charity support patients to live life as well as possible until the very end, free from pain and distress.
Care is provided from three hospice sites in Ashford, Canterbury and Thanet, as well as in patients' own homes. To offer these services to patients and their families, the charity must raise £11 million each year from the generous local community.