13th January 2022
Pilgrims nurse Peter retires after 44-year career
Peter Hall from Folkestone was a familiar face at Pilgrims Hospices since its first hospice opened in Canterbury in 1982. Originally a staff nurse, he eventually joined the community team and spent most of his career supporting patients in their own homes across east Kent.
---
Peter was born in Germany; his father was in the army, so the family travelled often before settling in Folkestone in 1977. He married his wife, Brigid, in 1982 and together they have three daughters: Ruth (36), Rosie (33) and Ann (31).
He said: "I left school with very few qualifications, just an Art O-Level at Grade C. Whilst loafing around, I bumped into a friend doing a pre-nursing course and became inspired by a desire to help people, particularly those who were ill. So, I gathered a few more O-Levels and was accepted into nurse training at Kent and Canterbury Hospital. As part of this, I also completed mental health training at Horton Road and Coney Hill hospitals in Gloucester."
Pilgrims was built on a foundation of loving people and wanting to serve them at a difficult time. Although initially a Christian organisation, this broad, compassionate ethos laid the foundations for the holistic secular care we have now.

Peter
Peter qualified in April 1982 and shortly afterwards became a Pilgrims nurse; he received a royal handshake from the Queen Mother when she opened the Canterbury hospice that year.
From 1982-83, he worked on the Cheerful Sparrows ward at Queen Elizabeth The Queen Mother Hospital in Margate. He also nursed on the intensive care unit (ICU) at Kent and Canterbury Hospital. Peter returned to Pilgrims in 1988 as a community nurse, supporting patients in the Herne Bay, Thanet and Folkestone areas.
He continued: "I was interested in the holistic nature of palliative care and felt it was a good way to combine my general nursing skills with my mental health training. Interestingly, myself and several ICU colleagues transitioned to palliative care around the same time – Frances Guthrie, the first community nurse at Pilgrims, Penny Coe, Debbie Corke and Jenny Farran. On the ICU, even if a patient is unconscious their families are there for us to talk to, so there are similarities in the way Pilgrims care for the whole family and support them after bereavement, too.
"I loved being out and about and visiting people in their own homes, it's a different dynamic to the wards. Even though a patient is unwell, they're still the boss – we don't come to take over, just to advise and help them achieve their goals as best they can. I especially enjoyed Christmas, it's fun to see how different families celebrate!"
Peter also worked short spells on the hospice wards. This helped to remind him what the ward environment is like and how colleagues work there, and he would often liaise with them to arrange patient admissions from home to hospice. They also support the community team with syringe driver training, so that nurses like Peter can set them up for patients at home or advise via telephone.
He added: "I worked with lots of lovely people and we were lucky to have access to many different specialities between us – occupational therapists, physiotherapists, counsellors, to name just a few – which is probably something I took for granted over the years. I've always found teamworking really enjoyable.
"It also ties in with what drew me to palliative care; Pilgrims was built on a foundation of loving people and wanting to serve them at a difficult time. Although initially a Christian organisation, this broad, compassionate ethos laid the foundations for the holistic secular care we have now."
I worked with lots of lovely people and we were lucky to have access to many different specialities between us

Peter
During his long career, Peter saw much change within the nursing profession:
"When I started, each nurse had their own caseload, which helped maintain continuity of care but had its downsides, too. The move to corporate caseloads, although more bureaucratic, enabled colleagues to manage your patients if you had a day off. This is where multidisciplinary teamworking shines; everyone pitches in. On the whole, it's much better for organisation and patient care.
"Over the years, the admissions process from community into the hospice has also greatly improved, which has been nice to see."
Spending the last part of his career nursing through a global pandemic has presented both challenges and opportunities for Peter and the wider Pilgrims workforce.
He said: "We had to do a  lot more online so it was tricky; IT is my nemesis! Fortunately, I had lovely colleagues who were very helpful and understanding – I'm not bothered about looking silly so am happy to ask for help. Everyone was so supportive of each other.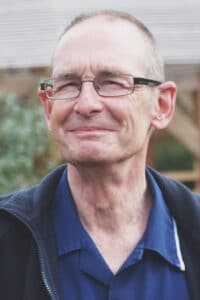 "I'd gone part-time by the time the pandemic started, so that eased things and not much changed for me. Telephone contact was a challenge initially, but it made me appreciate being able to visit people again when we could. We also realised that some things can actually be done more efficiently over the phone or online, so this learning will be taken into future practice. For example, we used to have in-person meetings at GP surgeries, which is very time-consuming with needing to travel back and forth, so doing these via Zoom is much better."
Kate White, Head of Nursing at Pilgrims, added: "Peter has been the fabric of Pilgrims for so many years. His retirement is a great loss to us, but mostly to our patients and their families. Peter has always gone the extra mile, putting the patient at the centre of all he does. I have no doubt he will be remembered fondly by all the people whose lives he has touched. He takes with him a wealth of experience and knowledge as well as a great sense of humour. Peter is genuinely one of the kindest, nicest people you could wish to meet. He doesn't have a bad bone in his body. He always smiles and has a moment to ask how you are.
"I wish Peter the very best for a long and happy retirement; I am sure he will fill his time continuing to help people, he won't be able to stop himself!"
Upon retiring, Peter has no immediate plans other than to spend time with his wife and family. 
He said: "I'm going to drift into it. I've got a 1,000-piece jigsaw puzzle that I've always wanted to do but never had the time, so that's first on my list!
"My wife and I are going to tidy up our church's garden. Our daughter, Rosie, gets married soon and we're also planning a trip to Oklahoma, USA next spring to visit our eldest daughter, Ruth, and her family, which will be lovely. We have lots to look forward to."
We're looking for people to join us in providing outstanding quality care and support to those who need it most.
If you're interested in a nursing or care career at Pilgrims, we'd love to hear from you.
Check out our current vacancies for more information and apply today.
---
Each year, Pilgrims Hospices give care and comfort to over 2,500 people in east Kent coming to terms with an illness that sadly cannot be cured. The charity supports patients to live life as well as possible until the very end, free from pain and distress. Care is provided from three hospice sites in Ashford, Canterbury and Thanet, as well as in patients' own homes. To offer these services to patients and their families the charity must raise £11 million each year from the generous local community.