6th October 2022
Community project helps Pilgrims clean up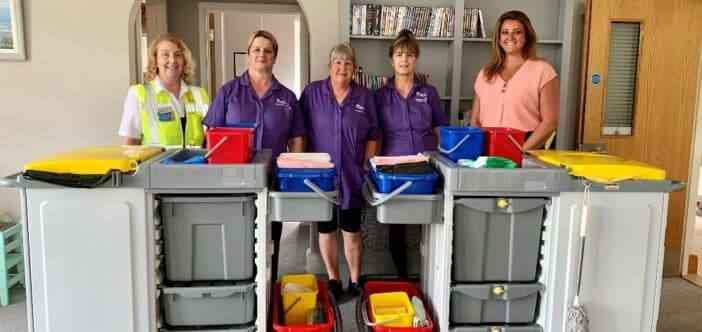 County Square domestic team member with Sharon Tomey, Carol Kennedy and Marilyn Kirton from Pilgrims domestic team and Stacey Bell, Retail Scheme Director of County Square Shopping Centre
County Square Shopping Centre recently purchased new equipment to support Pilgrims Hospices' domestic team with funding from their Community Project.
County Square is a Gold Service Award winner for best cleaned shopping mall in its class; and as long-term supporters of the local hospice, they continue to help clean up by funding new trollies to make keeping the hospice spic and span, just that little bit easier.
---
Two Kärcher Eco cleaning trollies worth more than £2,000, have been delivered to the grateful domestic team. Stacey Bell, Retail Scheme Director of County Square Shopping Centre visited the hospice to see the trollies in action and chat with the staff who are putting them into practice.
Stacey said: "We are extremely pleased to support Pilgrims Hospices by providing the new cleaning trollies to help the amazing domestic team with their important and valuable work. We're delighted the trollies are proving so useful. I hope the new easy to move eco carts go some way to helping with the busy domestic roles."
Marilyn (Maz) Kirton, from Pilgrims domestic team told us:
"It's great to have the wonderful new eco trollies, we can contain all of our equipment as we work throughout the hospice, they are helping to make our work more streamlined. We've had lots of comments from patients and colleagues as we support throughout the hospice departments, with lots of smiles and laughs about our brand new sports model trollies!
"We are very thankful that Stacey and her team at County Square were thinking of us; we are so pleased with the new equipment."
---
Each year Pilgrims Hospices give care and comfort to thousands of people in east Kent who are coming to terms with an illness that sadly cannot be cured.  The charity support patients to live life as well as possible until the very end, free from pain and distress.