19th June 2023
Broadstairs super-sized deckchair is a Pilgrims' fundraising winner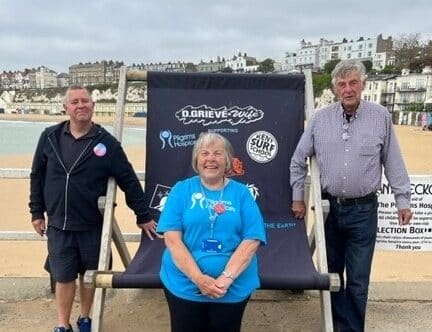 John Nicolls from Broadstairs, had the idea of placing a super-sized deckchair on the Broadstairs harbour in 2018; the idea was to raise funds to support his local hospice care charity, Pilgrims Hospices. To date, the deckchair has raised an incredible £6,637.22 from the generosity of local residents and tourists over the past six years.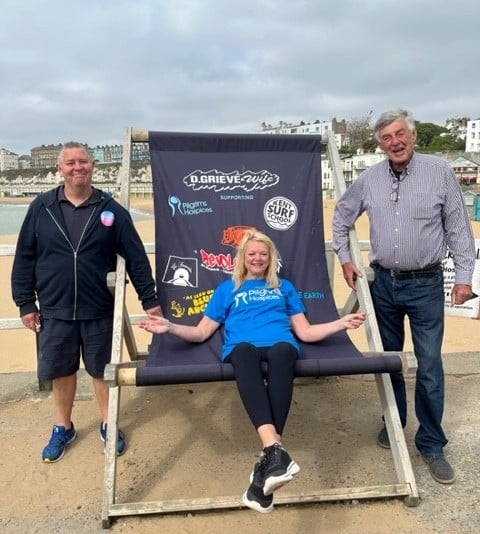 John said: "It's always a real pleasure supporting a charity that is so close to my heart. Over the years it's been invaluable to many, I am happy to help in any way I can, and it's been great to follow its success."
Karen Kenward, Pilgrims Hospices Community Fundraising Manager said: "It's always a delight to meet up with John; his passion for our charity is overwhelming, and he is always so very keen to help support in any way he can.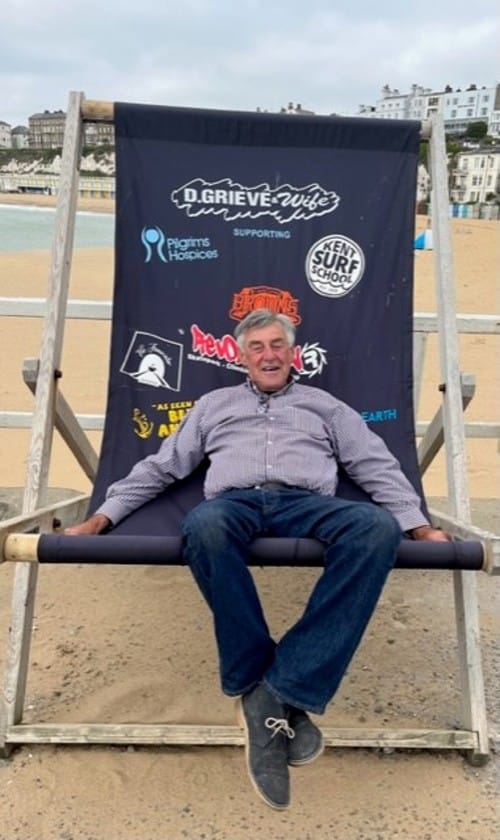 "His idea has worked very well, and it's wonderful to see both children and adults having their photos taken in the chair, having fun, and popping a donation in as a thank you.
"I would also like to thank Nick Anselmi who has also helped support the chair from York Gate Ice Cream Parlour, Broadstairs, along with each and every one of you, who has made a donation to help support our charity. We will continue to watch its success throughout this summer too."
It's always a real pleasure supporting a charity that is so close to my heart

John
We take great pride in the fact that all our services are provided completely free of charge.  We receive over 75% of our funding from the local community and it is entirely due to the kindness of people like you that we are able to provide the care we do. Your support is ensuring people living with a terminal illness in east Kent can access the quality care and comfort they deserve. As always, we are only able to provide our services, free of charge, thanks to the generosity of our family of supporters, which you are an important part of. Together we can, and will, continue to make a difference.
We're only able to provide vital, compassionate care across east Kent with the help of our dedicated supporters.
Fundraising for Pilgrims Hospices to make a difference in your community.
If you have a question or idea relating to fundraising for Pilgrims Hospices, please email fundraising@pilgrimshospices.org. Or if your question is about an event or challenge organised by Pilgrims Hospices please call  01227 812 609.
If you're planning your own event please tell us what you're planning. 
Even if you're only in the early stages of planning your fundraising, we'd love to hear from you!
---
Care is provided from three hospice sites in Ashford, Canterbury and Thanet as well as in patients' own homes.  To offer these services to patients and their families the charity must raise £11 million each year from the generous local community.