6th June 2018
Pilgrims share awareness of Dementia Action Week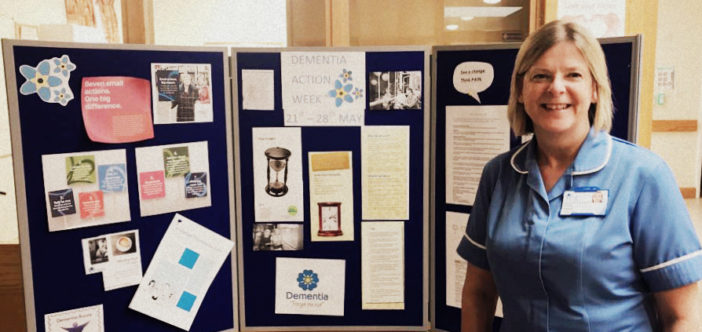 Nurses from Pilgrims Hospices in Ashford, Canterbury and Thanet raised public and staff awareness on the small things that can be done to change the lives of people affected by dementia during Dementia Action Week (21-28 May).
---
Information boards were displayed during the week, encouraging people to take time to talk about advance care planning and end-of-life conversations.
Pilgrims Hospices nurses Debbie Beasley and Ro Kelk attended the free film night held at the Ann Robertson Centre in Canterbury on 24 May.  The film Iris was shown, which depicts the true story of the lifelong romance between novelist Iris Murdoch and her husband John Bayley, from their student days through to her battle with Alzheimer's disease.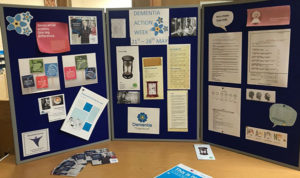 Around 30 people attended the viewing with an opportunity to discuss the film and join in with a dementia Q&A session with Debbie and Ro afterwards. Pilgrims Hospices founder, Ann Robertson, also attended the event, sharing information on a project involving a local junior school and a person with dementia.
Debbie said: "We had some very positive feedback from the event. Being able to share our dementia patient and visitor experiences with people who have diverse levels of knowledge, along with a cup of tea and cake, was really rewarding."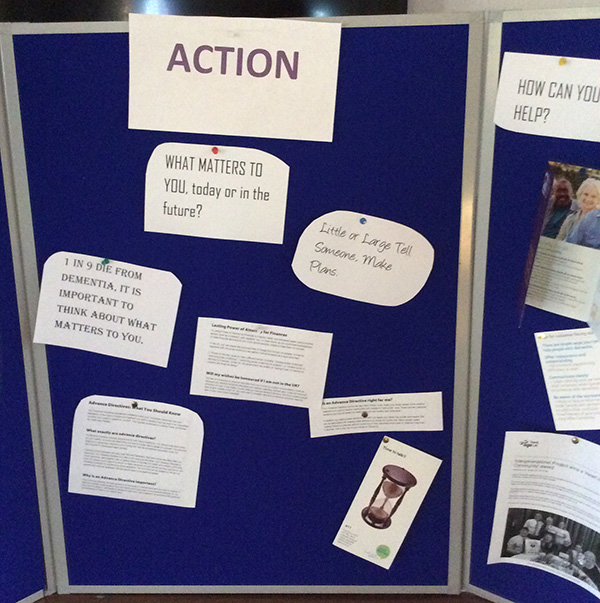 Jacqueline Wilkinson, Pilgrims Hospices dementia lead nurse at the Thanet hospice, said: "We ran our information stand in the hospice reception throughout the week. The focus was on reducing the risk of getting dementia, what matters to you and how you can help.
"It was good to raise awareness during Dementia Action Week and encourage visitors to share their experiences or gain a greater depth of knowledge around dementia.
"This could simply mean taking the time to reach out to someone with dementia for a chat. It's vital that we support patients and sufferers in such difficult times. We're very pleased to raise awareness for Dementia Action Week on behalf of Alzheimer's Society."
---
Share your carer story on social media by using the hashtags #PilgrimsLife and #CarersWeek and tagging us on Facebook and Twitter.
If you or someone you know is coping with a life limiting illness and you think you may benefit from Pilgrims free services as a patient or a carer, talk to your GP or Healthcare Professional about your options or click here to read about our Wellbeing and Social Programme.
---

Carers Week is an annual campaign to raise awareness of caring, highlight the challenges carers face and recognise the contribution they make to families and communities throughout the UK. This Carers Week (11-17 June) the focus is on building communities that support the health and wellbeing of carers. The impact of caring on health and wellbeing should not be underestimated; this year's campaign will share examples of how carers can stay Healthy and Connected.