11th May 2018
Dying Matters Awareness Week: What can you do in your community?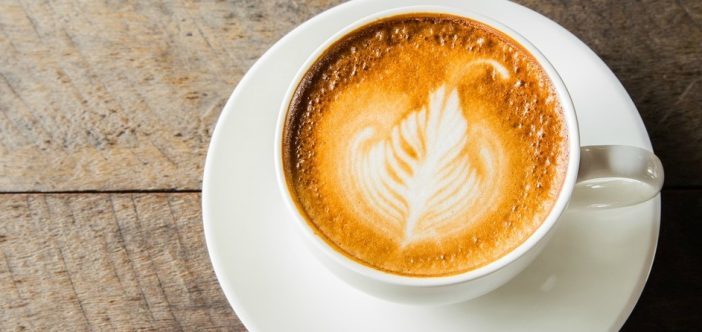 Each year in May, Dying Matters Awareness Week provides an opportunity to place the importance of talking about dying, death and bereavement firmly on the national agenda.
In 2018, the week will run from 14 – 20 May; Pilgrims Hospices will be sharing knowledge and experience to get people talking openly about death during the week.
In 2017, nearly 600 events took place across England, sharing information with over half a million members of the public, and it's hoped that even more events will take place during this year's awareness week. The theme for this year is 'What can you do in your community?', focusing on how people can encourage supportive conversations about death, dying and bereavement in schools, the workplace, hospices and other community areas.
With the End in Mind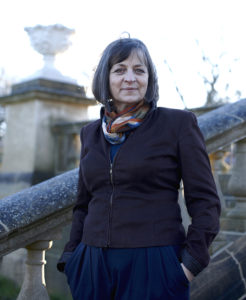 As part of this nationwide week, author Kathryn Mannix will join Andrew Thorns, Pilgrims Hospices Medical Director, for a discussion about her book With the End in Mind, a powerful collection of stories taken from her clinical practice working with people who have incurable, advanced illnesses. The event will take place on Wednesday 16 May at 6:45pm at Grimond Lecture Theatre 3, University of Kent, Canterbury CT2 7NP.
This event is now fully booked; keep an eye on our website, Facebook and Twitter for post-event coverage.
Death Cafe
Pilgrims Hospices will also host a Death Cafe on Thursday 17 May, providing an opportunity for people to come together in a relaxed informal café environment and talk about death and dying. It is not a bereavement or counselling session, rather a space to talk about a subject we often avoid as part of our daily conversations. The event takes place 5:30pm – 7:00pm at the Ann Robertson Centre, 55 London Road, Canterbury CT2 8HQ.
There are just a few spaces left for our Death Cafe, so book now if you'd like to come.
Talking about death makes it easier to plan for and to deal with it when it happens.


Mandy Williams
Mandy Williams, Pilgrims Hospices Head of Education and Training, explained: "Talking about death makes it easier to plan for and to deal with it when it happens. We would like to encourage as many people as possible to join us for a conversation over coffee and cake.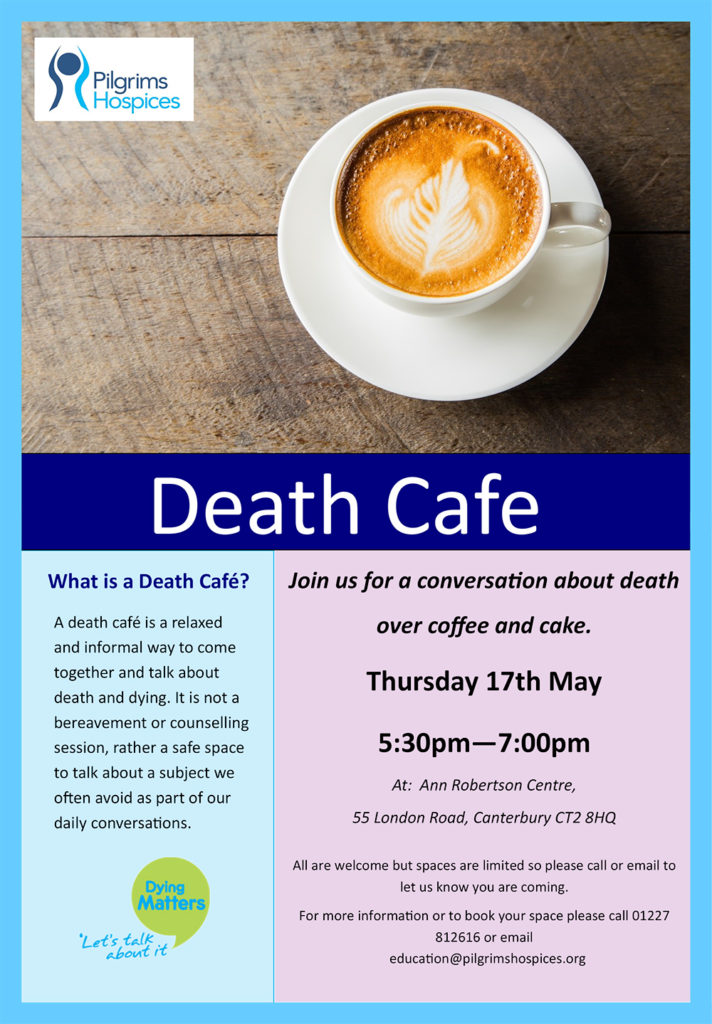 "Our goal is to create a friendly space where people can ask those questions about end of life care issues and coping with bereavement."
Patricia Morley Award
Wendy Hills, Pilgrims Hospices Director of Nursing and Care Services, will soon be accepting applications for this year's Patricia Morley Award for Improvements in End of Life Care. The award is open to nurses and allied healthcare professionals who work within Health, Social Care or Pilgrims Hospices in east Kent. This will be the second year that care professionals can submit a project plan or model of care that will improve end of life care.
The successful applicant will receive £1,000 towards the implementation of the project that will make a difference to patients being cared for in the community.
"Sharing information, bringing communities together and challenging peoples' perceptions and concepts regarding living and dying well, is making a difference within our community", Wendy explained.
Patricia Morley was the incomparable and inimitable face of nursing at the Kent & Canterbury Hospital for many years. She worked tirelessly to promote best practice in nursing and was a long-standing Trustee of Pilgrims Hospices.
Last year's award winner, Jan Hyde, End of Life Care Facilitator for East Kent Hospital University Foundation Trust (EKHUFT), celebrates the roll out of the winning project – Comfort Care Packs – across three hospital sites in east Kent.
Comfort Care Packs
Jan told us: "The Comfort Care Packs have been designed to support the essential comfort and dignity of family members staying overnight with loved ones. The pack content is aimed at reducing anxiety in the relative who has no essential items to use but doesn't want to leave the patient's bedside. Some toiletries, a toothbrush and toothpaste are just a few of the items that can really make a difference to families at such a sensitive time.
The Comfort Care Packs have been designed to support the essential comfort and dignity of family members staying overnight with loved ones.


Jan Hyde
Last year saw the launch of the Compassion Project, a collaborative project between East Kent Hospital Foundation Trust and Pilgrims Hospices to promote a culture of compassion at end of life within the acute hospital settings at EKHUFT.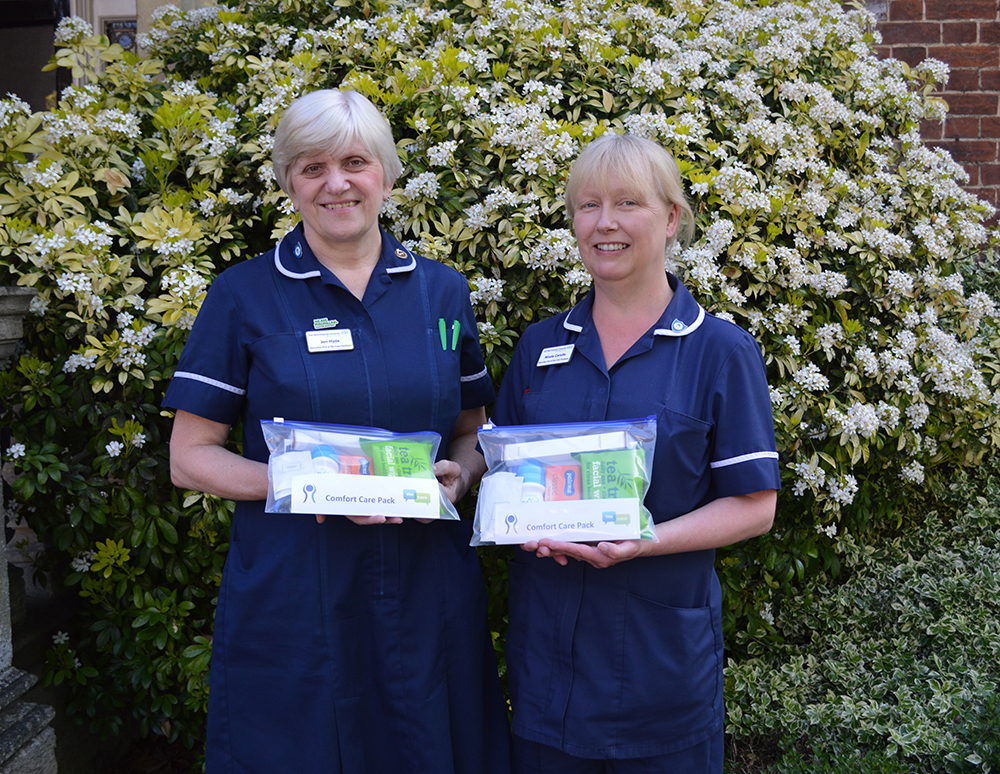 The partnership between the two east Kent health providers is improving end of life care for patients across east Kent. It continues to support hospital staff on more than 50 east Kent wards and departments, to give dedicated support to patients in the last days of life and work compassionately with their families.
All hospital staff who come into contact with patients and families at this incredibly difficult time are given training by Pilgrims nurses, and the hospital's own end of life care experts, in the use of the Compassion symbol and are being encouraged to ensure it becomes part of the normal ward routine and culture when caring. The Compassion symbol is displayed discreetly on hospital wards when a person is in the final stages of life, providing hospital staff with an indicator to proceed with increased sensitivity and ensure visitors to other patients are respectful and courteous towards the patient and family in such a difficult circumstance.
Annie Hogben, Compassion Project Lead for Pilgrims Hospices, explained: "It's so important to raise greater awareness of end of life care in hospitals. Pilgrims are working closely with hospital care staff to identify even further opportunities to ensure we provide expert services to patients and families. The collaboration is proving a continued success."
We host Time to Talk community events throughout the year for the general public, aiming to open up the conversation about death and dying; with film screenings, poetry readings and Death Cafes and much more, there's something for everyone.
To find out more about future Time to Talk events contact the Education team on 01227 812 616 or email education@pilgrimshospices.org.
---
If you or your family are experiencing Pilgrims care, find out about the support we can offer through our Wellbeing and Social Programme.