12th September 2023
Mr Bird's CD collection is flying off Pilgrims Hospices eBay site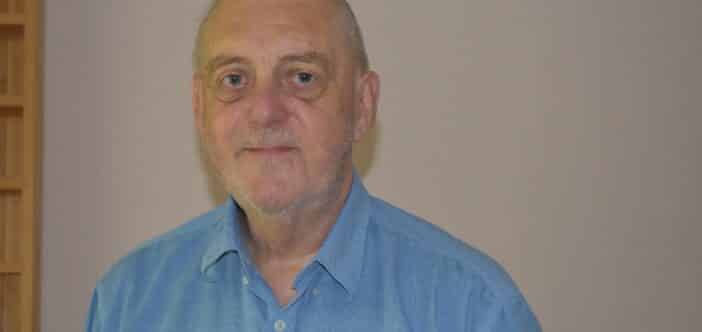 10,000 CD's have kindly been donated by Mr Mick Bird from Dover.  His amazing music collection, which is in mint condition, has been gifted in memory of his father who was cared for by Pilgrims Hospices.
Mick (72) has spent years collecting music by a wide variety of artists and bands, starting from the 60's and onwards through a vast range of modern, rock, heavy metal, Motown, disco and so much more.
Jonathan, Pilgrims Hospices E-commerce Manager said: "We've already sold over 400 of Mr Bird's CD's on our eBay site, which have raised over £8,000 so far. We've been meticulously cataloguing the artists, and collections in order that we can take full advantage of his generous donation.
My dad, had been looked after so well, I wanted to give something back to the hospices.

Mr Bird
"There are also many concert tickets that he has kept in pristine condition, including Status Quo tickets from the 80's which have sold for figures in excess of £45 per ticket, along with Thin Lizzy, Fleetwood Mac, ELO, and many heavy metal bands too, all achieving sales in excess of £40 each."
Mr Bird said: "My dad, Reg, had been looked after so well, I wanted to give something back to the hospices. He used to attend the hospice as a day patient, until eventually he was admitted on to the ward in the Canterbury hospice. The care team were amazing, nothing was too much trouble for dad or our family.
Every time I visited dad, I brought along some biscuits for the Pilgrims staff, they were so good to my dad, I just felt I wanted to say thank you and offer a little treat for them too.
Each year, on the anniversary of Dad's death, I travel over to the Canterbury hospice with some biscuits for the staff.  It's my little way of saying thank you, and continuing my connection with the hospice that made such a difference for dad at the end of his life.
On the day he passed away, I sat for three hours holding his hand. The hospice and the staff were wonderful, I will always be grateful for the care we all received.
I do this little trip each year, to keep his memory alive in a positive way.  I just pop over, and explain why I'm there, it's important to me and my memories, I'm sure the nurses and care team enjoy the biscuits. This year is the 8th anniversary of when dad passed away.
I decided after some deliberation, that although I'd already bequeathed my music collection to Pilgrims Hospices in my Will, I'd like to make the donation sooner rather than later, to help raise important funds for hospice care. My huge collection had almost outgrown my small home, it was taking over, and I thought it was time for it to go and do more good, and give even more people the pleasure it had given to me. I contacted Jonathan at Pilgrims eBay about making my collection available much sooner; he came to meet me, and we discussed how to make the very best of the collection, especially as some of it is really quite rare and valuable. I felt confident that Pilgrims' would put my collection to work on their eBay site, and start helping people who need Pilgrims care straight away. Knowing the time was right to do so, I felt it was a really positive thing to do. I've retained a small collection of CD's, so will definitely continue to enjoy my music at home, for years to come."
This vast CD collection started when Mick was unable to find a particular album on vinyl, as it was only produced on CD. After selling his vinyl collection of 3,000 albums, 1,100 singles, and 400 12" singles, he set about replacing everything in CD format.
The collection originally started with his passion for 60's music but after that, his tastes spread and he said with a smile, "I had a job to keep up with it."  Mick found a shop in Whitstable, Gatefield Sounds, who with their vast array of contacts in the music business, helped him locate and purchase many of his more unusual artists. Even though he is no longer collecting, he told us that he stays in touch with his friend at the shop, and they meet up and chat on the phone frequently.
Mick said: "What Pilgrims did for my dad was priceless, he didn't mind going to the hospice, he knew it as a place of warmth and safety. When he was more able, he was a dance instructor, and when he went to the hospice, he used to teach the nurses to dance. He was such a character, and I wanted to give something back for all of the kindness and care he received.  I know my collection is worth a considerable sum, and I thought that this is the very best thing I can do with it.
I've kept around 300 CD's; a few disco, Motown, soul, and country, but mostly 60's, easy listening, and also some heavy metal but not a lot. Just those that I really like, mostly the greatest hits.  I didn't want to break up the artist's collections and spoil what they are worth as a compilation.
Whatever mood I might have been in, I had music for it, that was the fun.  I'm hoping that it brings lots of joy to other music fans."
What Pilgrims did for my dad was priceless
Mike added: "Strangely enough, it was quite therapeutic when Jonathan and his team came to collect the CD's,  I was truly ready to share it with Pilgrims. I'd had my fun with it, and now it was time for others to enjoy it."
Jonathan added:  "We are very proud and honoured that Mr Bird has chosen Pilgrims Hospices to share his fabulous collection with.  It will raised thousands of pounds for local hospice care, and continue to give pleasure to more collectors, who will enjoy bidding and purchasing from our eBay site.  Thank you so much for your generous donation, I've have enjoyed chatting about the music and sharing his memories, whilst we arranged moving the collection to our warehouse.  He is a most knowledgeable and interesting gentleman."
"I will be keeping him updated with how much the collection is raising as we continue to list more of his CD's."
We are very proud and honoured that Mr Bird has chosen Pilgrims to share his fabulous collection with

Jonathan   –   Pilgrims
Mr Bird laughed and said: "I'm glad I didn't wait until I died before sharing the collection with Pilgrims, it's been interesting hearing about how the items are being sold, and how much money they are raising to help the hospices.  I've had so much pleasure from the collection, and I'm delighted to hear that others are enjoying it now too!"
---
Each year Pilgrims' gives care to thousands of people across east Kent. Care is provided from three hospice sites in Ashford, Canterbury and Thanet as well as in patients' own homes.  To offer these services to patients and their families the charity must raise approximately £11 million each year from the generous local community.