12th March 2019
Brave soles, take on Firewallk challenge to raise in excess of £25,000 for Pilgrims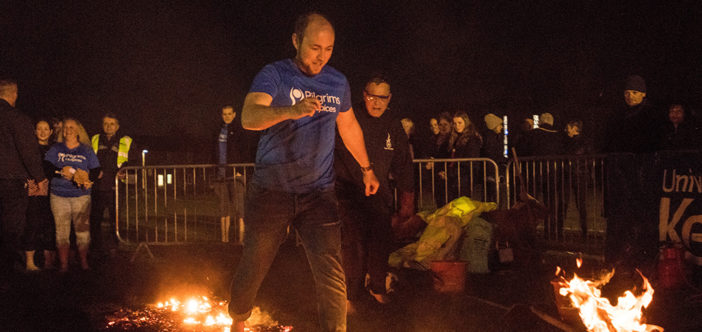 Over 110 brave supporters faced their fears and conquered Pilgrims Hospices Firewalk at Canterbury University and the Ashford hospice on Friday 1 March and Saturday 2 March 2019.
The challenge involved walking barefoot over red-hot wood embers measuring 800 degrees!
Many were there putting their best foot forward to support the charity who provided end of life cared for friends and loved ones.  All those taking part enjoyed a motivational training seminar by firewalk specialist  Cliff Mann, before stepping outside to face the flames.
Firewalking is a huge personal challenge.

Cliff Mann – Firewalk Expert
Cliff said: "Firewalking is a huge personal challenge, I've been teaching people the skills for 30 years now and I want everyone who makes the walk to raise funds for their chosen charity to have an amazing time and feel completely empowered by the experience.
"I'm proud to say that over the years my training has helped participants to raise over 1.5 million for charitable causes."
Onlookers were treated to a dazzling display by 'warm-up act', Paul Incredible, who performed an array of extraordinary feats in a 15-minute fire show.
Paul said: "It's a pleasure to be back again for Pilgrims Hospices Firewalk.  Through personal experience, I know the importance of the end of life care given and the additional support offered to friends and families who have been touch by their services."
Robert Grew, Events Fundraiser for Pilgrims Hospices, explains: "It was great to see so many people overcoming such a primal fear and hot-footing it across the coals in support of the hospices.  You could see how much it meant to each person once they had made it across; they were beaming from ear to ear!  And so, they should be! They've all raised an incredible amount of money; vital funds that will mean Pilgrims Hospices can continue to be there for people living with an incurable illness and their families right across east Kent."
He added: "We'd like to thank the University of Kent Sport for hosting us in Canterbury; I'm pleased that so many supporters were there to cheer our brave walkers across the burning embers.
"Also our thanks to Pilgrims Hospices services team who made it possible to host the event within the hospice grounds in Ashford.  It made a very special venue and I'm pleased that so many supporters were there to cheer our brave walkers across the burning embers."
"Thank you to all of our fabulous volunteers who gave their time freely to look after and feed spectators on the night too.
"Everyone's help has been key in making the event possible."
"Sponsorship money is still coming in currently and we can't wait to announce the final total later this spring," Robert added.
There are some great challenges and events here Pilgrims Hospices   Why not take a look and help Pilgrims help even more people who need specialist care?
---
Care is provided from three hospice sites in Ashford, Canterbury, and Thanet as well as in patients' own homes.  To offer these services to patients and their families the charity must raise £11 million each year from the generous local community.