6th September 2023
Hikers go the extra mile at the Folkestone Downs Challenge!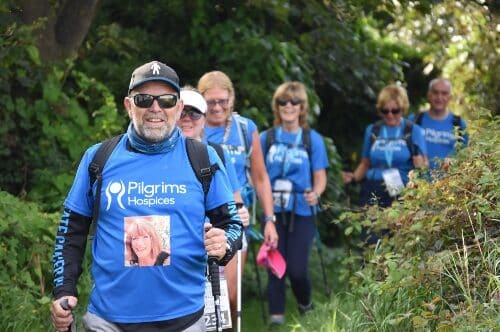 On Saturday 2nd September, over 400 brave hikers put their best foot forward to conquer the Folkestone Downs Challenge for Pilgrims Hospices.
The sun was shining as supporters tackled the challenging 36km course, taking them along some beautiful paths that showcased the spectacular scenery of Kent's South coast. Starting from the Folkestone Harbour Arm, supporters climbed Kent's famous white cliffs, and enjoyed breath-taking views over the English channel, Folkestone and Romney Marsh. Walkers even spotted some exotic animals as they passed by Port Lympne Safari Park, before making their way along the canal paths and promenade of Hythe to return to riotous applause at the Folkestone Harbour finish line.
We couldn't be prouder of our brilliant supporters

Robert      –     Pilgrims
Almost 22,000 km were collectively hiked by Pilgrims supporters on the day; the equivalent of walking from London to Istanbul more than 4 times! The day was a huge success and early estimations are that more than £50,000 has been raised for local end-of-life care services, exceeding the charity's anticipated fundraising target! The money raised will help Pilgrims Hospices to continue caring for thousands of patients each year, so that everyone living with a terminal illness can access the quality care, comfort and support they deserve, when and where they need it.
Max Sheppard, from Folkestone, completed the challenge and raised over £1,000 in memory of his father, Barry. He told us, "Dad passed away at Pilgrims Hospices in Ashford. Not only was the care for him at the hospice exceptional, the support for us as a family at the time was also incredible.
"Whilst Dad was only in the hospice for 6 days, Pilgrims Hospices provided a huge amount of support and guidance in the lead up to his admission. This assistance made a huge difference to Dad and us at a very difficult and stressful time."
Not only was the care for him at the hospice exceptional, the support for us as a family at the time was also incredible

Max Sheppard
Robert Grew, Events and Digital Fundraising Manager said: "We couldn't be prouder of our brilliant supporters who, quite literally, went the extra mile for Pilgrims on a very warm day. It was truly inspirational to see a community come together to support Pilgrims Hospices, and to celebrate and fundraise in memory of those they care so deeply about.
"We've already received fantastic feedback from our amazing participants, who have expressed their gratitude to our brilliant team. Our staff and volunteers worked tirelessly to ensure that participants had plenty of support along the route and well-stocked refreshment stops, to keep spirits up throughout the day. We are so grateful to everyone involved who made the event such a huge success, and especially to our fantastic volunteers, we couldn't do it without them!"
This year alone, Pilgrims Hospices has to raise £11 million through voluntary donations and fundraising activities in order to run their full range of services. Sponsorship raised through events like this help the charity to continue caring for local people, and their families, as they near the end of their lives.
---
Each year Pilgrims Hospices give care and comfort to thousands of people in east Kent who are coming to terms with an illness that sadly cannot be cured.  The charity support patients to live life as well as possible until the very end, free from pain and distress.