22nd October 2018
Gold Standards Award for local care homes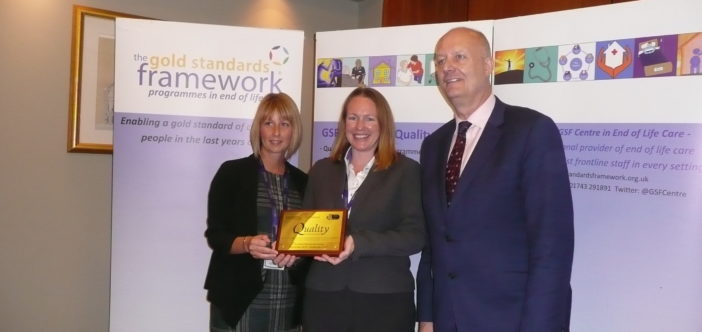 Pilgrims Hospices, Education and Training department has supported its first group of residential care homes to achieve the Gold Standards Framework accreditation in quality of care.  Linda Rendle, Nicola Le Prevost, and Lorna Pollock, who provide the training at Pilgrims Hospices, Ann Robertson Centre in Canterbury joined those receiving the awards at the National Conference and Awards Ceremony, in the Ambassadors Hotel, London last month. Linda and Lorna celebrated with Bradfield Residential Home in Deal and Grenham Bay Court Residential Home in Birchington, both of whom were presented with a Commended Award.
Linda Rendle, Clinical Lecturer for Pilgrims Hospices Education and Training Team said: "We were delighted to share such a special event with our Gold Standard achievers, sadly Maurice House, the British Legion Care Home in Broadstairs were unable to attend the evening, however we are delighted that all three homes have achieved this well-respected accreditation which aims to improve supportive care for all residents as they near the end of their lives."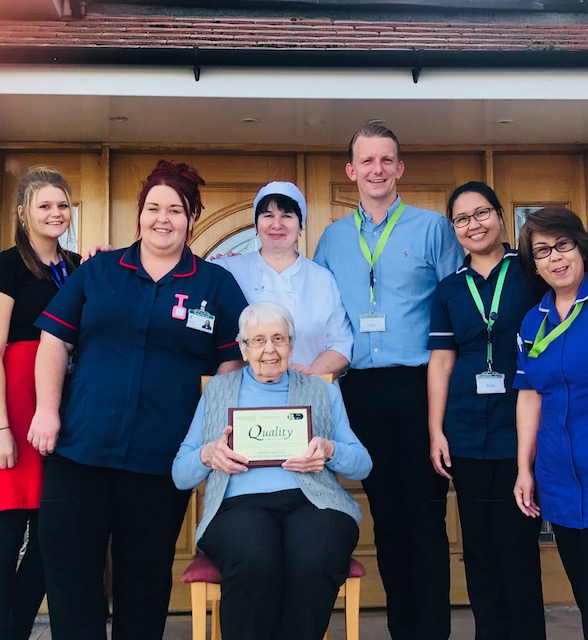 The three homes are the first to achieve the accreditation with Pilgrims Hospices as part of the Gold Standards Framework programme.
We were delighted to share such a special event with our Gold Standard achievers.

Linda Rendle – Pilgrims Hospices
The Gold Standards Framework quality improvement training programme is the largest and most comprehensive end of life programme for care homes in the UK. The programme focuses on improving quality of care, collaboration with GPs and others to reduce hospitalisation. It is widely acclaimed and endorsed by all leading care homes, the Department of Health and thousands of care home staff, as a key means of improving care for residents nearing the end of their life.
Dr. Andrew Thorns of Pilgrims Hospices said: "Enabling all people to live well until the end of their lives is important; this includes all residents in care homes with a focus on their specific care needs at different times of their lives, including the dying phase. This programme promotes a structured approach to ensuring that all residents receive optimal care which is of a gold standard."
Linda added: "We have been training care homes since 2015 with 38 care homes taking part over four cohorts. Our fifth cohort starts on the 12th of October with 12 homes taking part.
Enabling all people to live well until the end of their lives is important.

Dr. Andrew Thorns – Pilgrims Hospices
"We send our congratulations to all the those who have undertaken the training in all three homes.  Pilgrims Hospices hope to encourage even more residential homes to apply for the training programme and equip their staff with this important accreditation."
---
If you would like to find out more about the courses and accreditation training programmes on offer through Pilgrims Hospices education.department@pilgrimshospices.org or call 01227 812616.
The Education and Training Department offers courses and training for local health and social care professionals to facilitate education around end-of-life care.  Alongside training at the Canterbury centre, courses are run at the Ashford and Thanet hospices.