11th October 2023
Celebrating Compassionate Care during Hospice Care Week 2023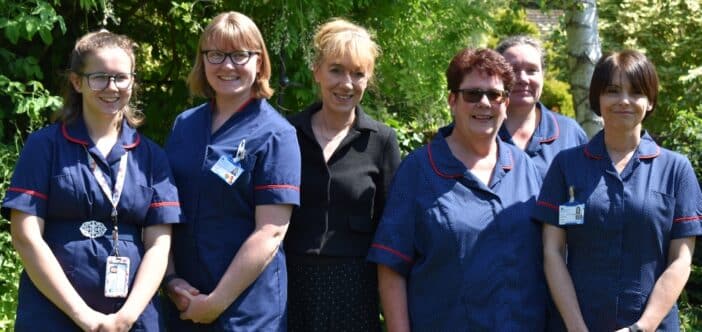 Pilgrims Hospices is excited to announce its participation in Hospice Care Week, taking place from 9th to 15th October 2023. This annual event serves as a platform to recognise and celebrate the vital role hospice care plays in our communities, offering comfort, support, and dignity to individuals and their families during life-limiting illnesses.
Hospice Care Week is an opportunity to shed light on the incredible work done by hospice organisations across the country, and Pilgrims is proud to be at the forefront of providing exceptional end-of-life care to patients and their loved ones. This year's theme, "Compassion in Action," perfectly encapsulates Pilgrims dedication to delivering compassionate care, ensuring every individual receives the support they need to live their final moments with comfort and dignity.
Hospices throughout the UK support more than 300,000 people every year. But the need for hospice care is growing. There aren't enough people to fill the roles we need to look after dying patients and their families. Without people to fill these empty roles, hospices will struggle to keep providing the gold-standard end-of-life care everyone deserves.
QUOTE
"From clinical staff to bereavement counsellors, kitchen staff to volunteer gardeners, the staff and volunteers who support over 300,000 people every year are what makes hospice care so special. This Hospice Care Week, we want to celebrate them. 
Hospices are exciting, rewarding places to work, and with the need for hospice care growing, we need more people to take up the opportunity to work in this incredible profession. If you're interested, reach out to your local hospice."
Toby Porter, CEO, Hospice UK
Throughout Hospice Care Week, Pilgrims Hospices aims to create awareness, foster understanding, and celebrate the dedicated professionals and volunteers who make a difference in the lives of patients and their families.
Chief Executive Officer of Pilgrims Hospices, Helen Bennett, shared their enthusiasm, saying, "Hospice Care Week is a time for us to reflect on the compassion and dedication of our team, who work tirelessly to provide comfort and support to individuals during their most vulnerable moments. We invite our community to join us in celebrating the profound impact of hospice care and to learn more about how we can all be part of this compassionate mission."
Pilgrims Hospices invites everyone to participate in Hospice Care Week 2023, and discover how compassion in action, can transform the lives of individuals and families facing end-of-life challenges.
We know that hospice staff find it to be the most rewarding and satisfying job of their career.
That's why, this Hospice Care Week, we'll be celebrating everyone that makes hospice care what it is.
For more information about Pilgrims Hospices, please visit www.pilgrimshospices.org or contact eastkent@pilgrimshospices.org.
This year's theme, "Celebrating Compassion", emphasises the unwavering dedication and compassion of Pilgrims Hospices' staff, volunteers, and supporters. Hospice care is about ensuring that individuals with life-limiting illnesses receive the highest quality of care that focuses on their physical, emotional, and spiritual well-being.
Hospice Care Week is a time for us to reflect on the compassion and dedication of our team

Helen    –    Pilgrims
Working for Pilgrims Hospices:
Whether you support patients and families within our care teams, help to raise vital funds or work in our support services, Pilgrims can offer a very rewarding career.
Working alongside passionate, like-minded and knowledgeable people, a career with Pilgrims provides you with the opportunity to make a real difference to the lives of families within east Kent.
Through providing care, working in our shops or attending events, there are always opportunities to network with other professionals and establish strong relationships within our community.
Alternatively, you might like to volunteer for Pilgrims?
Please explore our opportunities when you click here.
---
About Pilgrims Hospices:
Pilgrims Hospices is a leading provider of hospice care in east Kent. Committed to delivering compassionate, person-centred care, Pilgrims Hospices serves individuals facing life-limiting illnesses and their families. With a team of dedicated professionals and volunteers, the charity strives to ensure patients receive comfort, dignity, and support during their end-of-life journey. Learn more at www.pilgrimshospices.org.