20th February 2023
Broadstairs College student cooks up a storm at Pilgrims Hospices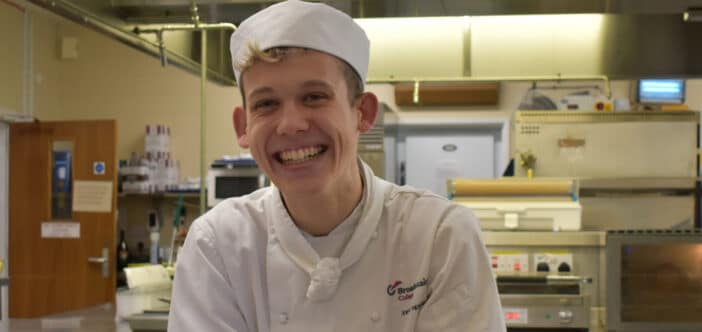 Broadstairs College student, Jordan Herring is cooking up a storm in Pilgrims Hospices' Thanet kitchen. The 22-year-old, second year student from Broadstairs, is enjoying undertaking a work placement as part of his Level 2 catering qualification.
---
Jordan said: "I started my work experience in Pilgrims' kitchen last year, it's just one day each week but I'm really enjoying it. I love being part of the team, they are all so friendly; I felt immediately welcome from the very first day."
Georgie Braithwaite, Pilgrims Head Chef said: "It's great to have Jordon with us, we are very happy to support him as he learns new skills, and really pleased he feels there are many benefits to learning more about the food requirements of patients here in the hospice.  
"Being part of the catering team can be extremely busy and sometimes quite noisy. Jordan has taken everything in his stride and has blended into our team really well even taking the jokes and kitchen banter with huge smiles.
"He needs to complete 100 hours experience as part of his on-going training, we are delighted to support him on his journey forward.
"Jordan will have the opportunity to chat with patients about the dietary requirements and how their individual needs can be catered for in the hospice kitchen."
Jordan and Georgie in the Thanet hospice kitchen
Pilgrims has worked with Broadstairs College over a number of years and as part of the on-going training, the students have provided an afternoon high tea,  complete with waiting staff and a Christmas dinner for patients and staff. "It's always great to have these lovely treats and we hope the students gain valuable hands-on experience," Georgie added.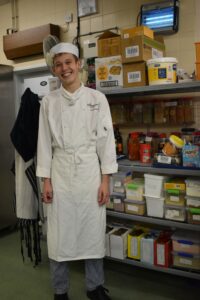 Jordan explained: "I think taking the catering qualification at college was a really good decision. It's definitely provided me with plenty of skills that we help me through life. 
"The work placement was arranged by Natalie, Broadstairs College Work Placement Officer who engages with organisations to match work opportunities to suit people's personality and style. I think she picked a good match for me!
"The placement has helped me to grow in confidence, and I know the placement is helping me to make a difference to the patients, it has a feel-good factor, and it's really worthwhile.
"When I'm cooking the time just flies by, there's no one thing that I'm particularly good at, but I'm absolutely enjoying learning lots of new things with the Pilgrims catering team."
To find out about current opportunities at Pilgrims Hospices, please visit:
www.pilgrimshospoices.org/jobs
---
Each year, Pilgrims Hospices give care and comfort to thousands of people in east Kent who are coming to terms with an illness that sadly cannot be cured. The charity support patients to live life as well as possible until the very end, free from pain and distress.