3rd August 2022
Store50 brings second-hand, chic and eco-friendly fashion to Canterbury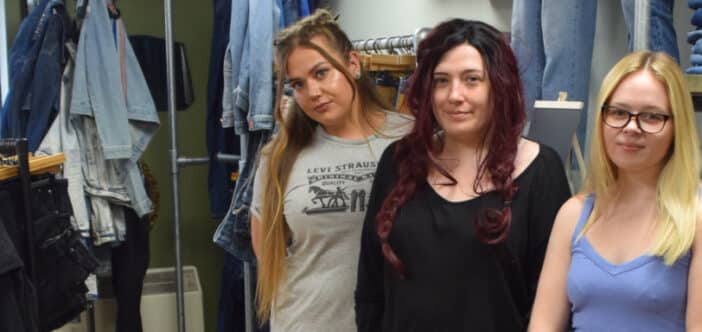 Store50 is Pilgrims Hospices' newest shop, located at 50 St. Peter's Street, Canterbury, in the heart of the city on its bustling high street.
By nature, charity shops are known for stocking preloved goods; Store50 is taking that a step further, aiming to make second-hand fashion affordable, chic and eco-friendly at the same time.
---
Opening on 4 August 2022, it will stock a diverse range of clothing for all, with a focus on "slow fashion" – an approach to producing clothing that advocates respect for people and the environment, often through reducing, reusing and recycling, rather than buying new items.
The shop will particularly appeal to Canterbury's thriving student population, who will find trendy threads to suit their wardrobes and their budgets.
Store50 also features a dedicated denim section upstairs, a chill out area and vinyl record room downstairs, and a community board where people can leave messages about local news, events and business.
Mandy Hawkett, Pilgrims Retail Area Manager shared: "We've been really keen to get this initiative off the ground for some time now, and have been searching for a suitable shop. We are delighted to have secured Store50. The team has pulled together fresh ideas with innovative and creative planning to give the shop something extraordinary for shoppers to enjoy. It looks like high end fashion with all the qualities of sustainability and so much more. We are also offering students a 10% discount, so it really is worth paying us a visit."
Amy Eldridge, Shop Manager, said: "We're so excited to be launching this brand new charity shop for the quirky and diverse Canterbury community. We hope that by encouraging shoppers to thrift and be mindful about their purchases, we can help to build a more sustainable retail economy that benefits people and our planet. By shopping with us, you will help to stop items going to landfill, save precious pennies, and also contribute to Pilgrims' vital services across east Kent – supporting our charity to provide compassionate care to patients and families where and when they need it the most."
Emily Bartlett and Demi Hale, Supervisors, added: "It's a re-envisioning of a charity shop, set apart from the mainstream and what people are used to. We hope it will be popular across different age groups, not just students – it's perfect for the everyday shopper, too!"
Store50 is open 10:00-18:00 Monday-Saturday and 10:00-16:00 on Sundays.
Tag us on social media using #pilgrimsshops and #store50thrifts.
Do you have a passion for slow fashion and a love for all things local?
Store50 is looking for volunteers to join its growing team, and they'd love to hear from you!
To find out more and apply, click here, call Amy on 07983 131 627 or email amy.eldridge@pilgrimshospices.org.
---
Pilgrims Hospices cares for thousands of local people each year, free of charge, during the most challenging time in their lives. They offer care and support in people's own homes, in the community and in their inpatient units as well as running a 24-hour advice line.