13th June 2019
Start your summer on the right foot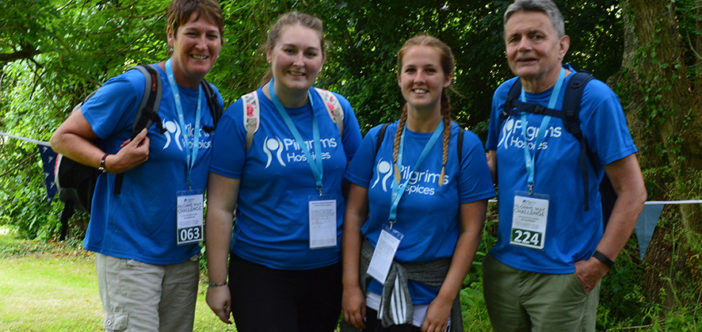 New and seasoned walkers alike will be lacing up their walking boots to join the Pilgrims Way Challenge on Saturday 22 June. With over 450 walkers already registered, the sponsored hiking event takes in the rural beauty of one of England's oldest and least trodden national trails. With the success of the event last year, Pilgrims can now offer three distances, 25km, 35km and 55km; perfect for people of all fitness levels.
---
In true Pilgrims Hospices style, walkers will be supported throughout the journey with regular, friendly rest stops for food and water, a fully signed route, and medical support.
Hannah Sole, Pilgrims Hospices Supporter Relations Team Leader, and her family will be taking part again this year. Hannah said: "This is such a wonderful challenge. My friends and family enjoyed it so much last year, we decided to get involved again!  Everyone was so encouraging, we met some lovely people along the way and visited some perfect rest stops where we had plenty of time to relax and grab a snack or two.
"You need to apply a little effort in some parts of the route, but the rewards are amazing. It's a great achievement and all of the money raised from registration and sponsorship will provide care for people who need Pilgrims help."
The Pilgrims Way Challenge takes place on Saturday 22 June 2019.
If you would like to join Hannah and supporters who have already registered, please visit pilgrimswaychallenge.org where you'll find full details.
Standard entry is £30 until 16 June 2019, or you can sign up on the day for £45.
This fully supported event includes regular rest stops with drinks and snacks, a fully signed route, event t-shirt and a hot meal at our Canterbury hospice (the halfway point for 55km hikers) and at the Dover Castle finish.
By taking part, you'll be helping Pilgrims Hospices to continue with the work that is so import within the east Kent community.
---
Each year Pilgrims Hospices give care and comfort to over 2,400 people in East Kent coming to terms with an illness that sadly cannot be cured.  The charity support patients to live life as well as possible until the very end, free from pain and distress. Click here to find out how we help.