26th February 2020
Jane's passion for painting with textiles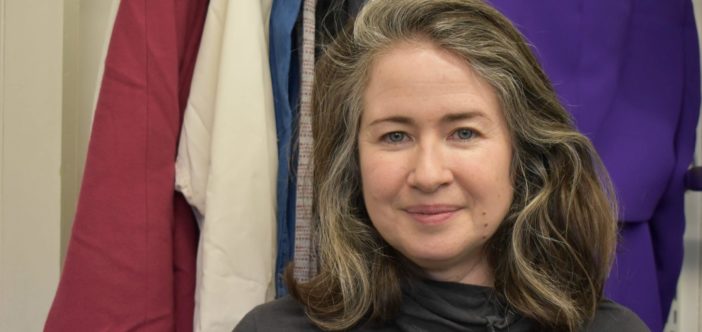 Jane Dickins's passion for art and fabrics has led her to volunteer for Pilgrims Hospices in the High Street shop in Deal. She is an avid up-cycler and loves to create works of art with interesting fabrics. One of Pilgrims volunteers spotted Jane's keen eye for detail and creative flair on a visit to source fabrics in the Deal shop. She was asked to consider joining the Monday afternoon volunteer team and has been a regular volunteer ever since.
---
Jane told us: "I've always loved visiting Pilgrims shops when searching for fabrics and creative ideas.
"I often check out the rag collections and find some brilliant materials to work with. That's the great thing about my work creating with fabrics; garments don't need to be perfect, I deconstruct them for my designs; giving them a new lease of life as part of my texture and colour fabric pictures and designs.
I've always loved visiting Pilgrims shops when searching for fabrics and creative ideas.

Jane Dickins
"It's great to know nothing is ever wasted from the donations given; the team of volunteers ensure all garments are of good quality before reaching the shelves for customers to purchase. Anything unsuitable is bagged for rags and sold to be made into cleaning materials and similar products.
"For a donation, I select suitable fabrics and colours for my designs, it's an Aladdin's cave of wools, cottons, leathers, I think of it as painting with textiles."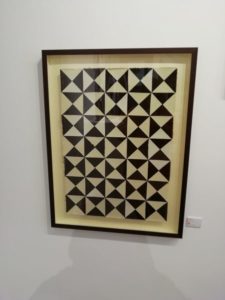 Jane who is originally from Australia enjoyed a career in archaeology specialising in Aboriginal art. She studied at Cambridge and lived in London before falling in love with Deal in Kent where she's now settled with her husband. Jane uses many of these influences in her fabric designs and pictures, which she works on from her studio in Deal.
Recently Jane exhibited some of her amazing artwork at the contemporary art gallery, Linden Hall Studio in Deal with great success.
She added: "I'm so pleased I'm able to combine my work as an artist with volunteering; I love my regular Monday afternoon slot at the Pilgrims shop, we are a great team and it's rewarding to know my time supporting in the shop is really helping to make a difference to end of life care in the local community."
If you would like to find out about volunteer opportunities with Pilgrims Hospices, please click here.
---
Each year Pilgrims Hospices give care and comfort to over 2,400 people in east Kent who are coming to terms with an illness that sadly cannot be cured. The charity support patients to live life as well as possible until the very end, free from pain and distress.