29th September 2023
Gift Aid Day – #tickthebox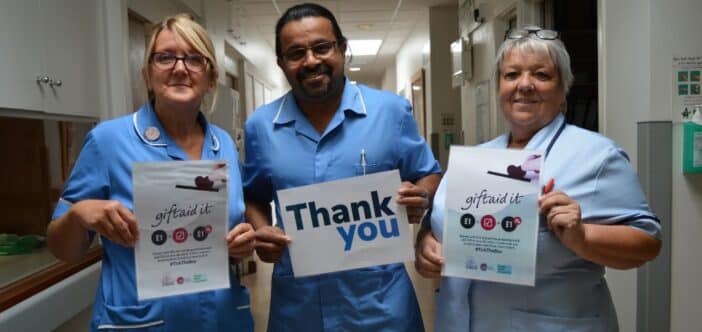 Gift Aid Awareness Day takes place on October 5th, 2023, and is an excellent opportunity for Pilgrims Hospices and its dedicated team of staff, and volunteers to engage with supporters and emphasise the importance of Gift Aid in boosting charitable donations.
Gift Aid is a tax relief system that allows registered charities, like Pilgrims Hospices to claim an additional 25% on eligible donations, and it comes at no extra cost to the individual donors.
Tim Stewart, Pilgrims Hospices Head of Retail said: "We would like to express our heartfelt thanks to our supporters for their commitment to Pilgrims Hospices.  Donations to our shops and warehouses are invaluable in supporting the essential work we do. Our charity claimed over £200k last year, and would love to claim more!
"By choosing to Gift Aid your donations, you are allowing our charity to reclaim tax on your contributions from the government. This means that for the donated items sold in our shops; every £1 raised, Pilgrims Hospices can receive an additional 25p, making your contributions go much further."
Every additional 25p is making an impact, enabling Pilgrims to provide more care, support for more patients, or more investment in essential facilities and equipment.
No Extra Cost:
We can't emphasise enough, that Gift Aid doesn't cost supporters anything extra. It's simply a way to maximise the value of their donations. Their generosity can go even further without any additional financial burden.
The challenges that charities like Pilgrims Hospices face, are considerable in today's environment, including increased demand for services and rising costs. Every Gift Aid donation makes a significant difference in meeting these challenges. That's why your Gift Aid is more critical than ever.
How to #tickthebox: It's a simple process and only needs to be completed once; our friendly staff and volunteers can assist with completing the form in store.  If you would like to get in touch with a member of the Pilgrims team regarding Gift Aid, please email giftaid@pilgrimshospices.org.
We would like to express our heartfelt thanks to our supporters for their commitment to Pilgrims Hospices

Tim     –     Pilgrims
At Pilgrims Hospices we have a simple vision of a community where people with a life limiting illness, and their family and friends are supported, and empowered to live well in mind and body until the very last moment of their life.
Your Gift Aid can play a pivotal role in achieving it. We hope our dedicated friends and supporters will continue to care for our charity and be an integral part of making a meaningful impact on the lives of those we care for.
Pilgrims Hospices has 31 shops throughout east Kent, ranging from furniture warehouses, vintage clothing, specialist book shops, thrifty discount stores, and our general stores featuring contents to suit everyone. You can find information on our website pilgrimshospices.org/get-involved-shop-with-us.
---
Each year Pilgrims' gives care to thousands of people across east Kent. Care is provided from three hospice sites in Ashford, Canterbury and Thanet as well as in patients' own homes.  To offer these services to patients and their families the charity must raise approximately £11 million each year from the generous local community.