18th August 2023
Rev'd Angie becomes spiritual care chaplain at Pilgrims Hospices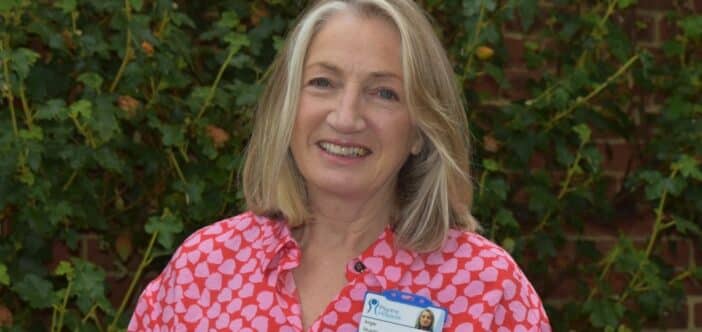 Recently Bishop Rose of Dover, came to the Canterbury hospice to undertake Angie Stupple's licensing ceremony.  It was a small, intimate and personal service, attended by a close party of her friends and family.  To support this special celebration Karen Warden, Chair of the Trustees, Sue Sharp, Pilgrims Director, Angie's new colleagues in the spiritual care team, and a group of staff gathered to welcome her to her role in supporting both patients, their families, staff in the hospices and within the local community.
Up until quite recently Angie was still working with her husband, Gerry, running their hair salon and barbers in Dover town centre. She said: "Many years in the salon, interacting with people from all walks of life, was a great grounding for my life in ministry". The business continues now that they have both retired.
Angie started training in 2017 as a lay minister, which is a four year course, and then transferred to ordination training for a further two years. She was ordained two years ago by Bishop Rose. Angie explained: "My original plan was to be licensed in the diocese of Dover, but having experienced hospital chaplaincy as part of my training, I felt drawn to this role and confident that this is where my gifts would be best used.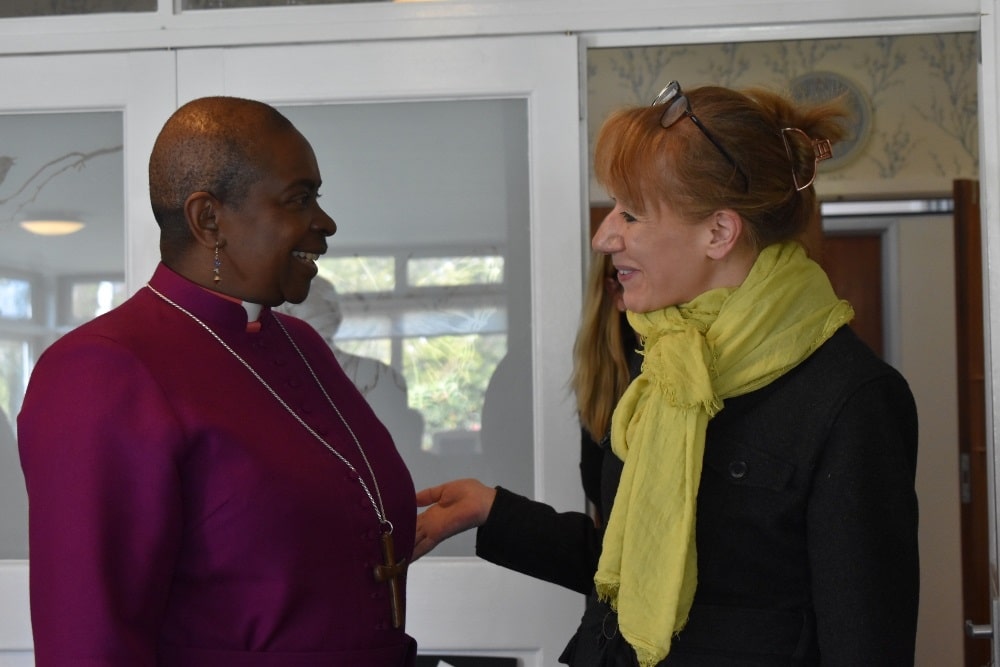 I understand spirituality as a whole and complete concept. It's not about pinning a belief down to a particular faith, it is outside the confines and boundaries of having a faith or no faith. In the context of palliative and end-of-life care our greatest connection, our common denominator, is our humanity, expressing our compassion, love and care for each other.  Our humanity and our spirituality, particularly at the point of life and death, are inextricably interwoven.
I feel truly privileged to be a part of the multi-disciplinary team at Pilgrim's Hospices

Angie      –     Pilgrims
My licensing by Bishop Rose was a very moving service, it was wonderful to share with my family, friends and new colleagues, especially in the holistic environment of the therapy centre at Canterbury hospice.  It is an honour to be here and to walk alongside patients, sharing stories and being with them where they lead, hearing their needs and concerns and offering support. In the holistic environment of the hospice, quite often, when people are relieved of physical pain and symptoms, it frees their mind and spirit and that's when the thoughts and conversations around the  meaning of life start to come in.  Sometimes there is simply great joy to be found in a shared silence.
Of course, we cannot help the terminally ill patients in a really meaningful way if we do not include family and loved ones. They play a significant role during a time of illness which will affect how a patient copes and responds.  This can be a spiritual and emotional roller coaster for everyone involved. The dying patients pain, of course, will come to an end, but the families pain carries on. I hope that I can support loved ones and carers by showing they are not alone, and by offering hope and a sense of normality in a situation which is anything but normal.
I took up my role in late April and I'm finding my feet. Though I am based at Canterbury I  will also help at the other sites in Ashford and Thanet as and when the need arises, as well as supporting hospice-at-home patients in the community.
I feel truly privileged to be a part of the multi-disciplinary team at Pilgrim's Hospices. The staff and volunteers are quite extraordinary in their care and commitment. This is a very special place where staff remain connected to patients and their families throughout their time here and beyond if necessary. Compassionate care is at the heart of everything that happens at Pilgrims.
---
Each year Pilgrims Hospices give care and comfort to thousands of people in east Kent who are coming to terms with an illness that sadly cannot be cured.  The charity support patients to live life as well as possible until the very end, free from pain and distress.