30th November 2023
Jenni Burnes has a touching and inspirational story that highlights her journey with Pilgrims Hospices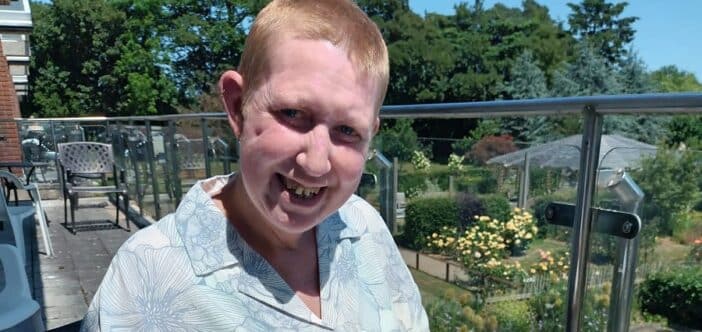 Jenni Burnes is 44 years old and a Pilgrims Hospices patient who received care on the ward for pain management. After a spell of treatment and support, she is now at home and being supported by the Pilgrims Wellbeing team at the hospice Therapy Centre.  As part of her on-going support, Jenni regularly attends the Time to Create groups.  Jenni welcomed me into her home in Hawkinge, which she shares with her loving husband, Adrian, and two adorable spaniel dogs, Bre and Briar. Their journey together has spanned 17 years, including 14 years of marriage. Having recently moved to a home that is better suited to her mobility, Jenni has a newfound independence in their bungalow space, which brings them much happiness.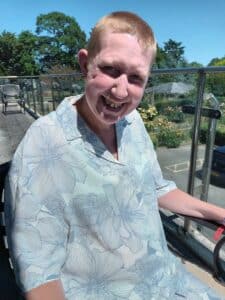 Jenni's life took a challenging turn when she battled breast cancer, but the good news is she's received the all-clear. Still, she faces the ongoing struggle of dealing with serious health conditions, including cancer, liver disease, and a history of bulimia.
Jenni's experience at Pilgrims Hospices has been eye-opening. She didn't know what to expect, but she discovered a warm and caring community where everyone, from the nurses to the volunteers, made her feel at home. She formed bonds with other patients and their families and values the family atmosphere at the hospice.
I've developed friendships I would never have expected

Jenni
"Dr. Pia took time to explain to me and my husband how Pilgrims would support my care; Dr. Suman helped with my pain management; and I soon became much stronger than I'd been in quite some time.  After a short spell on the hospice ward, I was able to return home and was offered the opportunity to join the Time to Create group once a week to support my wellbeing." Jenni told me.
She said: "My introduction to the group came with a sense of nervousness, as I wasn't sure what to expect and didn't consider myself a creative person. However, I quickly realised the positive impact of my engagement with Pilgrims. The wellbeing groups, especially the "Time to Create" sessions, have become an essential part of my life. I really appreciate the camaraderie, the banter, and the social element of these gatherings, as well as the opportunity to connect with others who understand my journey."
I can see the benefit of the group is helping Jenni to make good choices and enjoy life in every moment.  We offer flexibility within our wellbeing services to allow access to the right support at the time when it's most needed.  These therapeutic sessions help to manage symptoms and enhance wellbeing.  It gives people opportunities to connect with other people and share experiences in a caring and friendly environment.

Mel     –     Pilgrims Wellbeing Practitioner
Since moving to their new home and feeling stronger with Pilgrims support, Jenni has embraced healthier lifestyle choices to boost her wellbeing, and it's making a positive difference in her life. Despite her health challenges, Jenni is determined to live her life fully and independently. She even takes herself on outings via the local bus, which helps her regain a sense of normality.
Jenni had a diverse work history, including roles at Eurotunnel, a kitchen company, a doctor's surgery, and even as a phlebotomist, which she loved. She told me that she particularly cherished her time working with patients and looks forward to the groups where she feels she can be a support to other service users too.
Jenni stated: "My cousin Lou brings me to the group sessions; it initially helped boost my confidence.  She also takes part in the activities and enjoys the company of the group members too.  Lou is my rock, and I love her support. I couldn't do this without her.
"At the group sessions, I've developed friendships I would never have expected and enjoyed the creative activities; we often laugh so much, and I really look forward to them."
Jenni's husband, Adrian, has been a pillar of support, and she continues to fight her health battles with resilience. The care team at Pilgrims has made a significant difference by providing targeted medication, leading to a better quality of life.
Jenni is grateful for the support she has received from Pilgrims and encourages others to put their trust in the hospice's services. She recognises that while life may present challenges, every day brings opportunities to conquer something, no matter how small.
In conclusion, Jenni Burnes' story is a testament to her strength, resilience, and the positive impact of Pilgrims Hospices in her life.
---
Each year, Pilgrims Hospices give care and comfort to thousands of people in east Kent who are coming to terms with an illness that sadly cannot be cured.  The charity supports patients to live life as well as possible until the very end, free from pain and distress.