29th January 2023
Pilgrims Hospices Christmas tree recycling initiative is a record-breaking success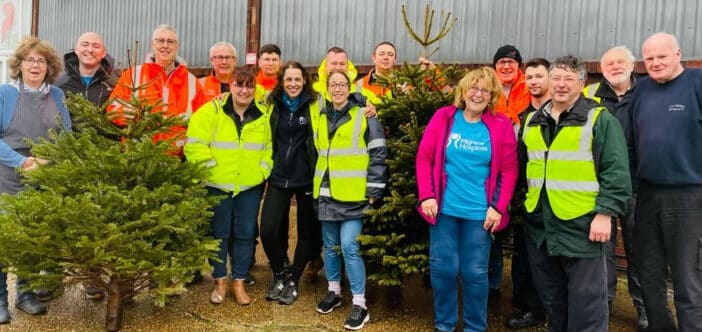 Come wind rain or shine, the doorstep collections of Christmas trees took place over two weekends, 6 – 9 January and 14 – 16 January 2023.
More than 3,150 real Christmas trees were collected by Pilgrims Hospices in Ashford, Canterbury and Thanet and recycled by volunteers and representatives of Pilgrims.
---
The generous community donations raised an incredible £57,000 for local hospice care, exceeding the total from last year, by more than £10,000.
Supporters have been helping Pilgrims to take care of the planet, and hospice patients, one tree at a time, through generous donations given by members of the community as part of this environmentally-friendly fundraising initiative, which reached a milestone 11 years in Ashford and last year 'branched out' in Canterbury and Thanet.
Pilgrims wish to say a huge thank you to everyone who supported their charity fundraising scheme. Together, your support helps the hospices to continue providing skilled and compassionate end-of-life care to people living with a life-limiting illness across east Kent.
Kate Duddell, Pilgrims Hospices Fundraising Manager said: "We can only provide the tree recycling service to the local community with the invaluable support of our much-loved and dedicated volunteers who donate their time, vehicles and services for local hospice care, we just couldn't do it without them. We think you are all amazing!"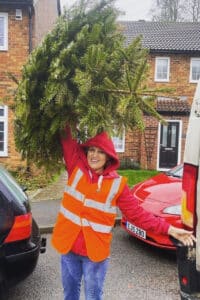 Kate added: "I would like to say a huge thank you to everybody who registered their tree for collection, each and every donation makes a difference to the £11 million we have to fundraise each year in order to keep our services running.
"Our thanks also go to our campaign partners; Kent County Council and FCC Environment and all the staff at the Recycling Centres. Additionally, a very special thanks goes to Ashford Borough Council for their many dedicated years supporting the campaign, Canterbury City Council and Thanet District Council. Also, A. Bird Trees and Gardens Ltd, Cordès Horticultural Ltd., Countrystyle Recycling Ltd., David Glew and Sons Garden Maintenance, David Parr Tree Surgeons, Earle's Landscapes Ltd., Givaudan, Jenner Contractors, Laing O'Rouke, Macknade, MW Cave Ltd., Old Dairy Brewery, Pneuma Church, PSR Lighting & Signs Ltd., RE Tanner and Sons, Royal Mail, Select Plant Hire, Silent Gliss UK, Streetspace Group, Tree and Grounds Maintenance Ltd, Waitrose & Partners, Watkins, and WW Martin, who all played a big part in helping us extend and deliver the campaign, and we thank each and every one of those involved."
---
Each year, Pilgrims Hospices provide care and comfort to thousands of people in east Kent who are coming to terms with an illness that sadly cannot be cured. The charity support patients to live life as well as possible until the end of life, free from pain and distress.