8th September 2023
There's nothing quite like afternoon tea!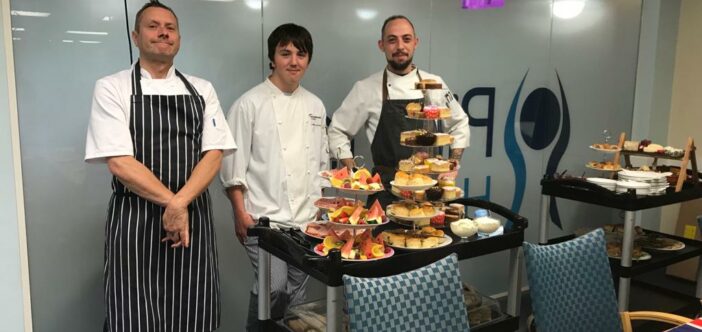 National Afternoon Tea Week, what a wonderful thing to celebrate! Pilgrims Hospices shared tea with their Living Well groups, and agreed it was a great opportunity to bring people together and enjoy delicious treats. It's heart-warming to hear that Pilgrims Hospices' Wellbeing Group recently organised a special afternoon tea for their patients at the Canterbury Ashford and Thanet hospices.
Jane Stanley, Pilgrims Wellbeing Practitioner told us: "I just want to say, a huge thank you to Pilgrims catering teams, for putting together such a lovely afternoon tea for our service users.  The chefs are always ready to help make our patients feel very special, nothing is too much trouble.
"They are normally tirelessly working behind the scenes ensuring each and every day that patients are well fed, have their strength built up, and even in their last days, patients can enjoy every moment and enjoy having tasty food to eat. During National Afternoon Tea Week, the catering teams at Thanet, Canterbury and Ashford were thrust into the spotlight, were their kindness and skills were truly recognised.
"With short notice, they prepared an afternoon tea for the patients who attended the Living Well groups across the hospice sites.  They exceeded expectations, offering sausage rolls, sandwiches, dips, a cheese board, freshly made scones, cakes and a fruit platter. The standard of cooking and presentation was 5 Star, said one patient who tucked in."
Afternoon tea is a cherished British tradition, and it can bring a lot of joy and comfort to those in hospice care. Scones and sausage rolls are classic choices for afternoon tea, and serving tea alongside these treats makes it a delightful experience for everyone involved.
Celebrations like this not only provide a chance to enjoy delicious food but also create a sense of community and support among the patients and staff. The hospice environment can be challenging, and such events can lift the spirits and foster a warm and caring atmosphere.
It's heartening to see organisations like Pilgrims Hospices making an effort to provide these special moments for their patients, ensuring they have the best possible quality of life during their time at the hospice. National Afternoon Tea Week is a perfect occasion to cherish those moments and celebrate life together.
A huge thank you to Pilgrims Catering Teams

Jane    –   Pilgrims
It was made extra special when patients were able to thank the chefs in person, when they delivered the trollies of tasty treats. Gasps of joy and wonder could be heard as many were rendered speechless by the standard of work, one patient said, he had been on a luxury cruise where the food was not nearly so delicious or skilfully presented. Comments from those who enjoyed the fruits of the teams' labours included "Absolutely brilliant" "A delicious array" "Scrumptious" "Lovely Jubbly" "Most enjoyable" and "Wow so much effort, so much care and attention."
Ian Ashton, Pilgrims Head of Catering Services said: "This shows the wonderful team spirit fostered within our catering staff, they truly value each other, this is what makes our hospice kitchens so successful."
Alison Griffiths, a Living Well Support Volunteer said: "Part of my role each week is to help support the patients who attend the Living Well Group with their lunch requirements. In the course of my doing so, I will often go and see the kitchen staff with requests on behalf of the patients. I have always found all the catering staff who work in Pilgrims Hospices kitchens to be extremely obliging and helpful. They always do their best to meet the individual needs and requests of the patients.
"Whilst the kitchen staff are always very busy catering for the whole of the Hospice, the team are always cheerful and welcoming. As a volunteer it is clear how all the kitchen staff really make a significant contribution to the enjoyment of the patients who attend the Living Well Groups. The patients frequently ask me to pass on their compliments to everyone in the kitchen."
The Wellbeing Teams know that without volunteers like Alison, who give their time and skills so kindly, the groups run at the hospices would not be as successful or run as smoothly. There is nowhere quite like Pilgrims with such a beautiful team spirit and genuine care of people.
Visit the Pilgrims Hospices Wellbeing Programme more information on care and services.  Would you like to become a hospice volunteer?  Opportunities are listed on the website here:
---
Each year Pilgrims Hospices give care and comfort to thousands of people in east Kent who are coming to terms with an illness that sadly cannot be cured.  The charity support patients to live life as well as possible until the very end, free from pain and distress.