28th September 2023
The Lord Mayor's end-of-summer afternoon tea supports Pilgrims Hospices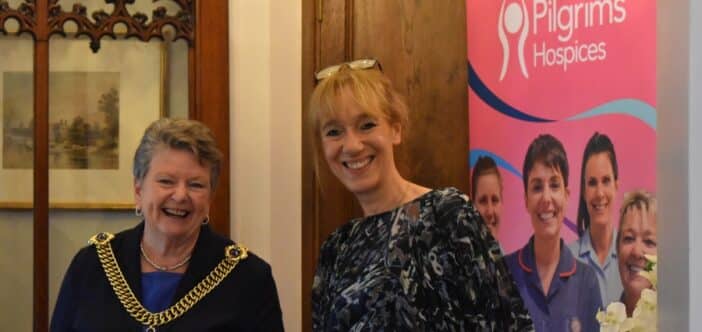 Pilgrims Hospices alongside The Lord Mayor of Canterbury, Jean Butcher, hosted a lovely end-of-summer afternoon tea event on September 21st at Tower House in Westgate Gardens, Canterbury. The event was organised in support of Pilgrims Hospices, which is the Lord Mayor's chosen charity for the year 2023. Pilgrims Hospices provide palliative care services from three sites in, Canterbury Ashford and Thanet, in the community, and people's homes across east Kent.
The event was attended by members of Canterbury City Council, charitable trusts, High Sheriffs, and respected members of the community.
During the afternoon tea, volunteers from the charity prepared a beautiful spread, which was served on traditional china tableware. These traditional touches added to the elegance and charm of the event.
One of the highlights of the event was a presentation by Sue Sharp, Pilgrims Director of Income Generation, and Jon Sillett, Deputy Chief Executive for Pilgrims Hospices. They spoke passionately about the care provided by Pilgrims, and focused on how community and corporate stakeholders can contribute to Pilgrims Hospices' essential fundraising efforts, and support the hospice's mission.  Sue also explained how the support of 1300 dedicated volunteers is vital to the running of the hospice services, from catering, administration, patient support and within the retail shops across Kent.
The Lord Mayor also spoke fondly of her years of work as a Health Care Assistant at the Canterbury hospice, and shared smiles with Senior Ward Nurse Laura Gouch, and Health Care Assistant, Lorna Moss who were guests attending on behalf of their colleagues. It was a delightful and meaningful event, that brought together community members to support a worthy cause.
Many of the attendees said, it was indeed a heart-warming and meaningful gathering, bringing together the community to support a vital cause and a most enjoyable afternoon tea.
If you would like to become involved  and help support end-of-life care services at Pilgrims Hospices, please contact Fundraising@pilgrimshospices.org  the charity would love to have your support.
---
Each year, Pilgrims Hospices give care and comfort to thousands of people in east Kent coming to terms with an illness that sadly cannot be cured. The charity supports patients to live life as well as possible until the very end, free from pain and distress. Care is provided from three hospice sites in Ashford, Canterbury and Thanet, as well as in patients

' 

own homes. To offer these services to patients and their families, the charity must raise £11 million each year from the generous local community.