5th June 2019
Herne WI's donation with a difference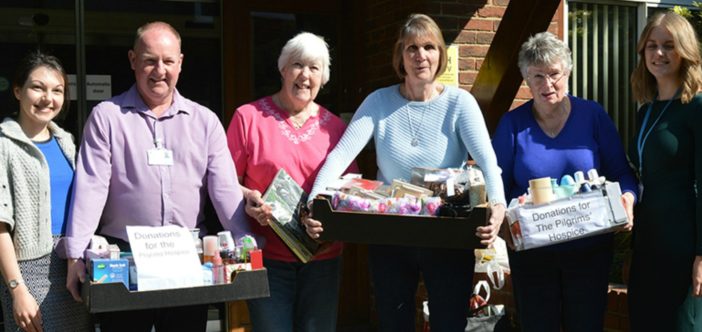 Members from the Herne Women's Institute visited Pilgrims Hospice Canterbury with baskets and boxes of wonderful toiletries to donate.
The gifts have been collected by the WI group members since January and have been generously given to Pilgrims to support the fundraising team in raising important funds for hospice care. The community-based organisation for women celebrates its 100th year in east Kent with countless charitable acts undertaken and friendships made.
---
Mary Jewiss, Sheila Trewinnard, and Jane Heminway brought along the donations which were gratefully received by Pilgrims fundraising team, Leila Ilkhan and Lydia Todd, and Hospice Services Manager, Adrian Matthews.
Mary from the WI said: "We're very pleased to support our local Pilgrims hospice, it is such a well-known and much-loved local charity which touches the hearts of so many of us.
"The response from our members to our appeal was amazing, we were all able to make a contribution and we're very happy knowing our gifts will really help to make a difference to people who need Pilgrims care."
The ladies were delightful and so enthusiasic about supporting Pilgrims.

Lydia – Pilgrims Hospices
Mary explained: "The group meets once a month, it's a great way to make new friends and socialise but more importantly being part of an organisation that helps within the community is very special.
"We love to catch up with tea and a good natter and keep ourselves busy knitting, baking, crafting and so much more while sharing time with friends."
Lydia Todd, Pilgrims Community Fundraising Officer, said: "The ladies were delightful and so enthusiastic about supporting Pilgrims. The lovely collection of toiletries is a wonderful addition to our tombola parcels for the Canterbury Vintage Tea and Fair, which will take place on Sunday 21 July in the Westgate Gardens in Canterbury.
"We hope the Vintage Tea will attract lots of visitors to come and enjoy a leisurely afternoon with music and refreshments, gifts and so much more. The support from the WI ladies will help us to raise even more money on the day.
"We wish to send a huge thank you to all of the WI ladies from Herne for helping us with their generous gifts. We hope to see some of you in the beautiful Westgate Gardens for our summer tea party with a vintage twist."
We are planning to support Pilgrims with some good home-made baking for Vintage Tea.

Jane – Herne WI
WI member Jane said: "The three of us are now retired, and enjoy having time to dedicate to the Women's Institute key campaigns and initiatives. We are planning to support Pilgrims with some good home-made baking for Vintage Tea."
If you would like to find out more about supporting a fundraising activity, volunteering to help at the Vintage Tea or baking a cake to be sold at the cream tea and cakes Vintage Tea cafe, please call Lydia or Leila 01227 812 621 or email fundraising@pilgrimshospices.org.
---
If you or someone you know is coping with a life-limiting illness and you think you may benefit from Pilgrims support, talk to your GP or Healthcare Professional about the options or click here to read about our Wellbeing and Social Programme.