28th June 2022
Sunflower Memories: Deborah's story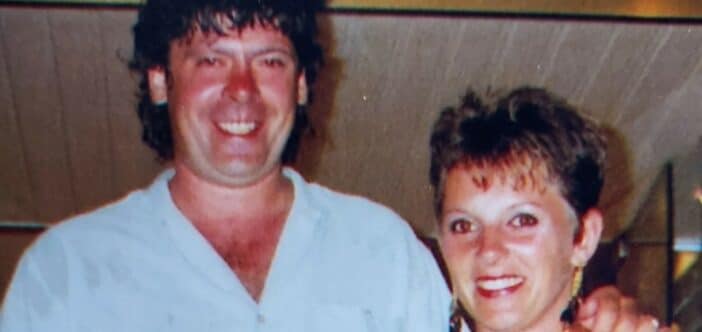 Deborah Appleton's dad, Wally, and husband, Pete, each received Pilgrims Hospices' vital end-of-life care, so she now remembers them as part of the charity's Sunflower Memories and Trees of Love campaigns.
Here, Deborah shares why remembering her loved ones in this way is so important.
---
When Dad started to become ill, my sister and I decided we would care for him at home for as long as we were able. It wasn't an easy task, we did the best we could but he was going downhill rapidly.
We sat and talked with him about going into the hospice as we all knew it was only a matter of time. At first he refused to go, then one evening he took a turn for the worse and asked us to ring the hospice. That was the first encounter I had with the hospice; we didn't know what to expect, how he would be looked after or anything about how it worked.
We needn't have worried. The staff at the hospice were absolutely amazing. They explained everything to us in a way we could understand, and each and every one of them treated our dad as though treating one of their own loved ones. The attention, compassion, gentleness and devotion to their patient knew no bounds – not just for Dad, but also for us as a family. They didn't just care for Dad in a medical way, they were also there with advice and for any help we needed from there on in, reassuring us that they were there for us not just at that time but whenever we felt we needed them. That's when I realised just how special the people who work at the hospice are.
That's what they do at the hospice, they give you a shining light when all you see around you is darkness and despair. That is what the sunflowers represent to me personally.

Deborah
So, over the years that have passed the hospice and all of its staff have been a very big and important part of my life. I always love attending the carol service, which was sadly marred by the dreaded COVID outbreak, but the sentiment and feeling was as beautiful as ever. That's what they do at the hospice, they give you a shining light when all you see around you is darkness and despair.
That is what the sunflowers represent to me personally. There's a sunflower quote that says, "Our stories and struggles are all different, but we each deserve to bloom, something will grow from the pain and anguish you are going through, and the something… will be you!"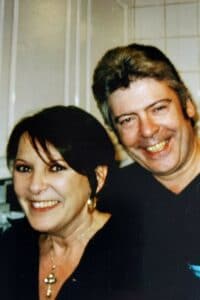 Then last year, the worst news I could ever have expected suddenly took my breath away and ripped my heart and my world to shreds.
My beautiful husband, best friend, constant companion and confidant, soulmate, twin flame and complete love of my life for the past 40 years was diagnosed with advanced lung cancer. Within three months I had lost the only man I have ever and will ever love. There was barely a day we were not together; we worked together, played together, laughed, cried, you name it, we did it together.
My whole life felt like somewhere I didn't want to be anymore, but we fought the battle together and with the help of my sons and daughter we gave it everything we had.
We nursed Pete at home at first, but he had a fall and was taken to hospital, where they found he had two broken ribs, so he didn't come home. We were blessed though because staff from the hospice came and took him with them. He was a different person while he was in there. Cheeky, contented and had 100% faith in all of the staff. They were wonderful with him; if I couldn't look after him at home, I can think of no place nor people better that I could or would have left him with.
My darling Pete passed a week later. We made a pact when we were first together all those years ago, that whoever went first wouldn't completely go until it was time for the other. I'm proud and lucky to say, "My Pete did not let me down". I'm as proud of him as I have ever been, and know that no matter what, one day we will unite as that one spark we have always been.
---
Sunflower Memories events will take place at our hospices in Ashford, Canterbury and Thanet on Saturday 30 July 2022.
If you'd like to dedicate a sunflower in memory of a loved one, please visit pilgrimshospices.org/sunflowers.
If you'd prefer to remember from home, please visit our online Memory Wall where you can post pictures and messages in honour of your loved one as part of our annual summer remembrance.
---
Pilgrims Hospices cares for thousands of local people each year, free of charge, during the most challenging time in their lives. They offer care and support in people's own homes, in the community and in their inpatient units as well as running a 24-hour advice line.