9th November 2021
Charity Shop Gift Cards to help local hospices and the environment too!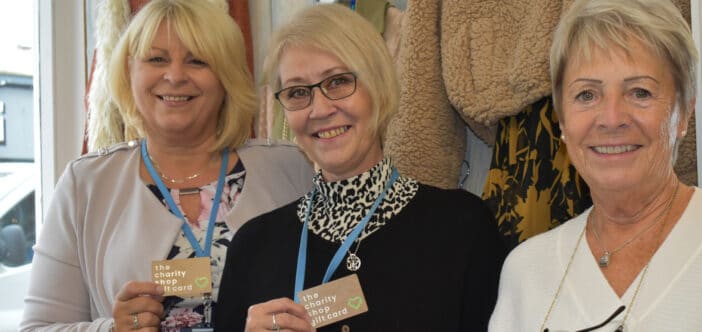 Pilgrims Hospices is the first charity in the country to accept a new multi-retailer gift card that can be used exclusively in charity shops.
The Charity Shop Gift Card is backed by the Charity Retail Association (CRA), and will be sold and accepted in Pilgrims Hospices' 30 shops, helping to raise valuable funds for end of life care for thousands of people in east Kent.
---
Tim Stewart, Pilgrims Hospices Retail and Business Development Manager, said: "Pilgrims are delighted to join the scheme right at the very beginning. We truly believe that the Charity Shop Gift Card will help generate much needed funds for the hospices and help introduce new people to charity shopping."
As well as boosting charity funds, money spent by cardholders will have a positive effect on the environment by supporting the growing second-hand revolution, which is being led by the environmentally aware Gen Z and Millennials, and is reducing the amount of waste sent to landfill.
Charity shops divert around 339,000 tonnes of textiles away from landfill or incineration every year, saving councils millions in annual waste disposal charges.
The gift cards themselves are recyclable and compostable.
The Charity Shop Gift Card has been developed by Gift Card CIC, a social enterprise, and gives regional and national charities that are members of the CRA their first opportunity to tap into the many billions of pounds gift card market.
More charities across the country will join the scheme in the coming weeks and months.
Local authorities and other support agencies can also choose to partner with the scheme and use pre-loaded gift cards to distribute the financial assistance they provide to individuals and families, which will then be spent in participating charity shops.
The Charity Shop Gift Card is a member of Social Enterprise UK, and the Gift Card and Voucher Association.
If you're interested in becoming a member of Pilgrims' retail volunteer workforce, find out more at:
pilgrimshospices.org/volunteer
People are inspired and motivated to support us for lots of reasons. Many of our volunteers have personal experience of the palliative care and support we offer to patients and their families; some have a special interest or skill that makes a valuable contribution to Pilgrims. Volunteering can also help you to gain new skills in an area you've always wanted to develop.
---
Each year Pilgrims Hospices give care and comfort to over 2,500 people in east Kent who are coming to terms with an illness that sadly cannot be cured.  The charity support patients to live life as well as possible until the very end, free from pain and distress.