9th December 2022
Store50's Sustainable Santa wins Canterbury BID's Christmas Window Competition 2022!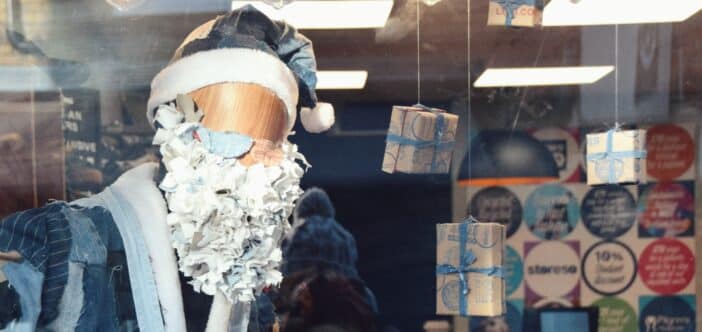 Pilgrims Hospices would like to say a huge congratulations to its Store50 shop team, who won Canterbury BID's Christmas Window Competition in December 2022.
---
The window display was originally curated for Acopia's Best Dressed Charity Christmas Window Competition, which is being judged later in December.
Becky McNicoll, Store50 Supervisor, came up with the idea for Sustainable Santa, in keeping with the shop's focus on pre-loved and recycled items that are kind to both purses and the planet. A Santa suit was donated to the team by another Pilgrims' shop, and Amy Eldridge, Store50 Manager, and her mum Thelma set to work dressing Santa and creating the display – using rag denim and a hot glue gun!
Amy said: "Sustainable Santa felt like the right twist on Christmas for our store; with it being our first Christmas in Canterbury, we wanted to showcase our product and creativity whilst keeping with the city's beautiful festive displays.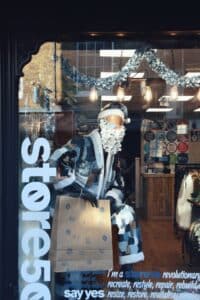 "The Canterbury BID judges entered us into the competition on their behalf; we had no idea, so we were completely shocked we'd won the Judges' Favourite prize! We are all extremely proud of this achievement, not only for the store but for my wonderful staff and volunteers who all had involvement in bringing our vision to life."
Mandy Hawkett, Area Manager, added: "I'm so proud of how the Store50 team has worked together creatively to deliver such a valuable message about sustainability via their Christmas window display."
The team can now proudly display their winners' certificate in the shop, and they also won a bottle of fizz and a shopping voucher for all of their hard work.
Store50 is located at 50 St. Peter's Street, Canterbury and will be open in the run-up to Christmas.
Thank you so much to everyone who supports Pilgrims Hospices Shops; we really appreciate it, and it makes such a difference to the patients and families we care for across east Kent.
---
Pilgrims Hospices cares for thousands of local people each year, free of charge, during the most challenging time in their lives. They offer care and support in people's own homes, in the community and in their inpatient units as well as running a 24-hour advice line.