11th April 2023
UNFRAMED mural festival and art trail arrives in Ashford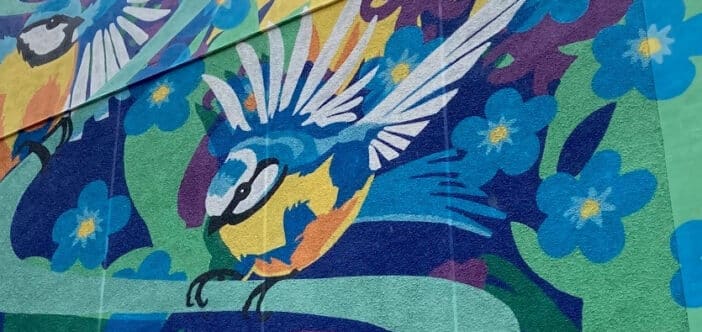 Follow the Ashford UNFRAMED 2023 art trail this April half term, and be amazed by the murals created by national and local artists, who have transformed blank walls in Ashford town centre, into a sea of colour and creativity.
Kate Duddell from Pilgrims' fundraising team with Chris Dixon from Ashford Borough Council / Mural art by Will Redgrove on Pilgrims' Ashford General shop
---
At the UNFRAMED launch, Sue Sharp, Pilgrims Hospices Director of Income Generation and Marketing, met mural artist Will Redgrove, painter of Pilgrims Hospices shop on Castle Street with his interpretation of the work of Pilgrims. The masterpiece depicts three blue tits representing the three Pilgrims Hospices; a ribbon in flight within a field of bluebells, forget-me-nots and sunflowers. A meaningful and peaceful representation of everlasting love, memory and care, which, is at the heart of Pilgrims Hospices' vision.
Visitors to the festival can download a map, scan a QR code at each site, or pick up a physical map from Coachworks, Low Key Tap Room, Picturehouse or Made in Ashford and wander around the town centre immersing themselves in the street art and learning more about each piece.
Mural lovers can also join a free, artist-led, family friendly guided tour; click here for more details and to book.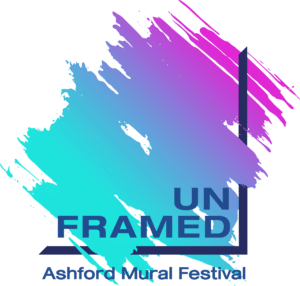 The mural festival is running from Saturday 1 April to Sunday 16 April 2023, with arts workshops, street dance and film screenings available to all visitors.
Keep up with all the latest updates as they happen and watch the progress of the artwork being created by following @ashfordunframed on Instagram.
You can find more information and event updates on the Love Ashford website.
---
Pilgrims Hospices care for thousands of local people each year, free of charge, during the most challenging time in their lives. They offer care and support in people's own homes, in the community and in their inpatient units as well as running a 24-hour advice line.