16th September 2021
Hospice at Home: "The hidden gem of hospice care"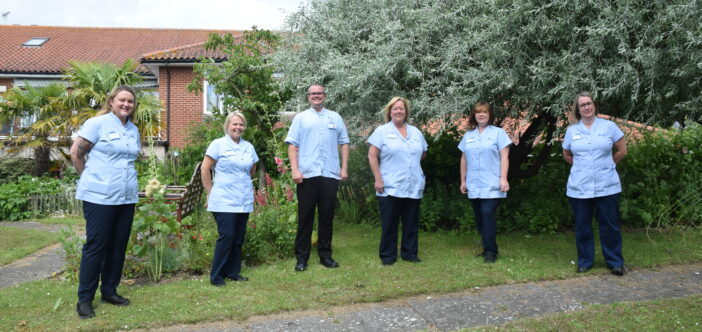 Pilgrims Hospices offer a wide range of support to people across east Kent who are living with life-limiting conditions – on its wards and in its Therapy Centres in Ashford, Canterbury and Thanet, and also out in the local community within peoples' own homes.
One such service is Hospice at Home; working with those considered to be within the last 72 hours of life, this vital team of Senior Healthcare Assistants (SHCAs) support families through the dying process at an incredibly difficult and important moment. Between them, they travel across the whole of east Kent to offer their skills and support. They work in shifts from 07:30-21:00, always in pairs.
---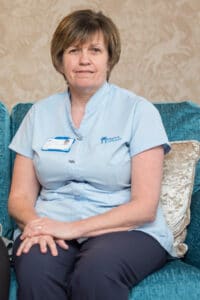 The Hospice at Home service began in 2009 and is a small team of seven: Mandy Hilden (Team Leader), Becky Baldwin, Sharon Beal, Daniel Brown, Tracy Fullarton, Sharron Hill and Rachel Kendall-Jones.
Referrals to the service are made via GPs, Pilgrims' multidisciplinary team, a hospital palliative care team or district nurse, and the Hospice at Home team aim to respond within four hours.
If a patient wants to be discharged from hospice or hospital care to die at home, the team help to make this possible; 24-hour care at home is not available, but the team can visit a couple of times a day to provide support and personal care.
Duties are numerous and varied, and no two days are the same.
The team said:
"We help with personal care and offer emotional support to families and carers. We're not time-restricted like some care providers are, so it's nice to be able to give people our full, undivided attention for as long as they need it.
"We have a good relationship with district nursing teams, who we contact if a patient needs medicines administering. We also report any changes in a patients' condition to them and the palliative specialist nurses, so that their care is joined up and tailored to them.
"Although we can't offer overnight sits, we can refer to organisations that do so families are able to rest and catch up on some sleep.
"Hospice at Home is the hidden gem of Pilgrims' care. There's often an assumption that we only offer inpatient units on the ward, but there's so much more. It's such a rewarding role, and it's a real privilege to be allowed into peoples' homes at a very difficult time. We're not there to take over, just to support; you can see the pressure taken off family members when we arrive. It's lovely to go home knowing you've done a good job.
"It can be an emotionally and physically challenging role, but we also have an overwhelming feeling of pride and reward in what we do. It's a real privilege to be able to support patients and families at an extremely personal time."
It's such a rewarding role, and it's a real privilege to be allowed into peoples' homes at a very difficult time. We're not there to take over, just to support; you can see the pressure taken off family members when we arrive. It's lovely to go home knowing you've done a good job.

Hospice at Home team
Hospice at Home has continued to be a much-needed and appreciated service during COVID-19. Early on in the pandemic, no visitors were allowed in the hospice buildings; as people were advised to stay home, more were able to care for loved ones there. This meant that many patients chose to be at home with loved ones at the end of their lives. The team was also deployed to the hospice wards and wider community, supporting where needed, especially at the height of the second wave over Christmas 2020.
The team holistically accompanies patients in their journeys – from identifying when they're nearing the end of life, providing last offices for loved ones, and caring for the family afterwards.
They continued:
"Most SHCA skills are transferable to other roles, particularly when working on the hospice wards, which we have often covered as a team. During the pandemic, we've regularly supported our colleagues at this very challenging time.
"Our team became trainers for local nursing and residential homes, showing staff how to 'don and doff' PPE correctly. We also assisted a nursing home that was in crisis when their staff and residents all contracted COVID."
The team's compassion and commitment is reflected in feedback from families they have supported:
"The carers who came twice a day were amazing, they helped wash my dad, used his favourite body spray, combed his hair. He looked so much more himself and comfortable afterwards, with dignity."
"The support I received caring for my sister was unbelievable, the team were amazing with everything. I felt like I had gained two more special sisters during this difficult time."
"They looked after my father daily, looking after his personal needs. They were and are amazing. As soon as they started with us, their confidence and manner calmed us all down. A ray of light in a very bleak time."
Kate White, Head of Nursing at Pilgrims, said: "Hospice at Home offer an invaluable service to those wishing to die at home by attending their home to give expert personal care in the last few days of life. They are able to take the time to support the patient and their loved ones at a most difficult time, with compassion and dedication. I receive numerous compliments from family members who've been so grateful and relieved for their input, as it means the patient's wish to die at home is fulfilled. The team is vital to our overall hospice service, giving people choice and an alternative to inpatient care."
Main image, L-R: Rachel Kendall-Jones, Sharon Beal, Daniel Brown, Sharron Hill, Tracy Fullarton, Becky Baldwin
---
Each year Pilgrims Hospices give care and comfort to over 2,500 people in east Kent who are coming to terms with an illness that sadly cannot be cured. The charity support patients to live life as well as possible until the very end, free from pain and distress.