26th October 2021
Julie puts her best foot forward for Pilgrims every day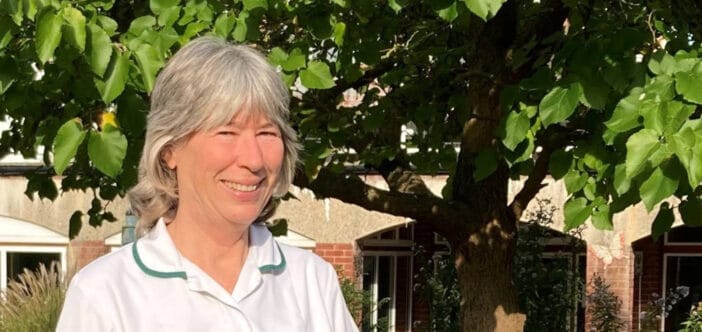 Occupational Therapy is an essential component of the care and services provided by Pilgrims Hospices. Julie Cox is an Occupational Therapist based in the Thanet hospice, with a career in social services spanning over two decades, she's dedicated her skills to the hospices for the past six years.
Her role as a Palliative Specialist Occupational Therapist has supported hundreds of patients with their personalised practical, psychological and emotional needs of people approaching end of life.
---
Julie said: "My role at Pilgrims is always interesting; I support patients on the ward and out in the community. Applying my skills to meet each individual's needs can be really rewarding. Whether it is providing the correct piece of equipment to allow someone to get home or improve their independence, encouraging patients to continue to do the things that are important to them or, to give them support to manage symptoms, it's a unique place of work."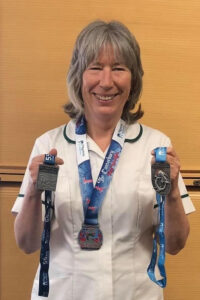 She added: "It's been a difficult and challenging 18 months for the team at Pilgrims Hospices. For my own wellbeing, I love to be outside and I have enjoyed taking on some interesting fundraising challenges this year. It's been fun, keeping me fit and also helped with fundraising for Pilgrims."
Julie took part in the Canterbury Half Marathon in August, she explained: "The runners pass close to where I live in Canterbury, and I've been cheering them along for around 20 years now! I was never a runner up until around 10 years ago when I thought I would give it a go. I'm pleased I did the Canterbury Half, it was a challenge but so rewarding to have completed it."
Julie has just completed the virtual London Marathon. Along with her running, Julie has taken on the Pilgrims Cycle Challenge over the years. Doing the 55k Pilgrims Way Challenge walk was the hardest one of all and there was a real sense of achievement arriving at Dover Castle after a long day walking.
Well done Julie for being a superstar fundraiser and one of our extremely valued hospice team.
Pilgrims palliative specialist occupational therapy offers personalised support for social, practical and emotional needs of people approaching end of life.
It enables people and their families to live independently and maintain meaningful occupations in accordance with their preferences for as long as they are able.
Occupational Therapy aims to bring purpose and meaning to a person's life by promoting independence, choice, dignity and quality of life. Occupational Therapists work with patients and those important to them, together with the multidisciplinary team, to identify priorities and goals. Pilgrims Hospices' Occupational Therapists work with people in the hospice, in their own homes or via the virtual Therapy Centre.
If you are interested in working for Pilgrims Hospices, click here for more information on available opportunities: pilgrimshospices.org/jobs
---
Pilgrims Hospices cares for more than 2,500 local people each year, free of charge, during the most challenging time in their lives. They offer care and support in people's own homes, in the community and in their inpatient units as well as running a 24-hour advice line.