4th July 2023
Sunflower Memories appeal to bloom again in hospice gardens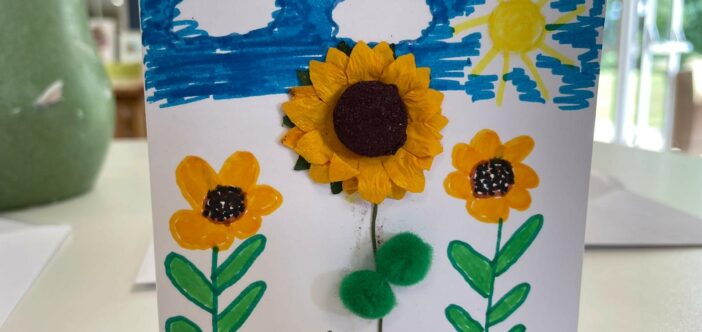 Pilgrims Hospices launch Sunflower Memories Appeal 2023, supporters are welcome to attend the remembrance events on 22 July, to celebrate the lives of loved ones and relive memories, with music and refreshments in the hospice gardens at Canterbury, Ashford and Thanet.
The leading provider of end-of-life care services in east Kent, is delighted to announce the appeal has now reached its 10th year of raising funds and awareness; it serves as a poignant tribute to cherished memories, while celebrating the spirit of compassion and care.
Each year the hospices offer individuals and communities an opportunity to visit the hospice gardens; to come together, and remember their loved ones, while making a positive difference in the lives of others.  This year's appeal is set to be even more remarkable, as the appeal donations over the past 10 years will reach in excess of £380,000, providing exceptional end-of-life care for thousands of people in the local community.  All are welcome to donate to dedicate a sunflower in memory of a cherished person. Each sunflower represents a heartfelt tribute to those who are no longer with us, but whose memories continue to shine brightly. Each participant will have a sunflower marker dedicated and personalised, symbolising their support for Pilgrims Hospices and the meaningful impact they are making.
The hospices' Supporter Relations team will transcribe the names of those to be remembered, on to each sunflower, thereafter they will be prominently displayed in the hospice garden of choice, creating a vibrant display for people to visit on the Sunflower days.  The Sunflowers will remain in the gardens through to the end of August, or can be collected on the days as a keepsake.
To take part in Sunflower Memories this year, simply call Pilgrims Supporter Relations team on 01227 782066 and let them know you would like to remember with a sunflower.  By making a donation for your sunflower you will be helping others who need our care and their families.
Ellie Cane, Pilgrims Individual Giving Manager said: "This appeal provides a special opportunity for people to honour and remember their loved ones, while helping Pilgrims continue to deliver outstanding care for patients and their families.
This beautiful event allows us to spend time with supporters, old and new, sharing news on Pilgrims Hospices care and services, as we move forward, continue to expand, and improve our facilities to help even more people."
This year these very special days will take place on Saturday 22 July from 10am – 2pm; Pilgrims staff and volunteers will welcome visitors to share memories, and celebrate in the sunshine.  To help celebrate this special 10 years of Sunflower Memoires, the Wellbeing Team will be attending, displaying some of the beautiful sunflower themed artwork created by patients in the Therapy Centres.
Billy Williams, Wellbeing Lead, said: "When patients attend groups such as 'Time to Create', they can relax in a friendly supportive environment, talk to like-mined people openly, and discuss the concerns freely.  Trying something new or rekindling some skills that have been forgotten can be excellent therapy, we know this, the chatter and laughter that can be heard at the groups is fantastic, and we encourage staff from all areas of the charity to come and get involved, chat with our patients, and enjoy doing something creative.
"Some of our 'Time to Create' patients have also been growing Sunflowers from seed, that will form part of the displays for everyone to enjoy on the day.
Pilgrims rely heavily on the generosity of their supporters to continue delivering exceptional care to patients, and their families. Your donations will directly impact lives, ensuring they can provide comfort, dignity, and support when it is needed most.
To find out more or get involved, visit pilgrimshospices.org/sunflowers, e-mail: sunflowermemories@pilgrimshospices.org, or call our friendly Supporter Relations team on 01227 782 062
Pilgrims Hospices is a leading charity dedicated to providing outstanding end-of-life care, and support to individuals with life-limiting illnesses. With a team of compassionate professionals, Pilgrims ensures that patients and their families receive exceptional physical, emotional, and spiritual care, throughout their journey.  Funds raised through the Sunflower Memories Appeal will directly support the wide range of services offered by the charity, including specialised nursing care, emotional support, and practical assistance. These vital resources enable patients to live their lives to the fullest, surrounded by love, dignity, and compassion, until the end.
With your support, we can make a lasting difference in the lives of those facing life-limiting illnesses and their families.