10th August 2023
Kev Rob and Eddie are making the most of Pilgrims therapy groups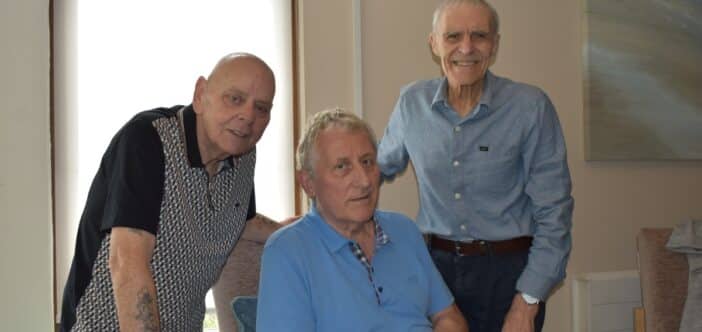 Pilgrims Hospices Wellbeing groups offer a holistic approach to improving the quality of life for their patients. The groups provide a variety of activities and sessions that aim to enhance both mental and emotional wellbeing.
Therapy Group users Kev, Rob and Eddie share their thoughts on the benefits of Pilgrims Wellbeing.
Kev – when I initially came along to the Wellbeing Groups at Pilgrims, I went home and said to my wife Gwenn, this isn't for me.  She persuaded me to give it a little time; I'm so pleased that I did, I have met friendly and interesting people in the groups and enjoyed some of the variety of entertainment and talks that have been provided by the Wellbeing teams.
I discovered that talking and listening to people who are experiencing similar symptoms, and things that I'm experiencing, is really good therapy.  I've had a chance to express my feelings in a relaxed and friendly environment.
I was a plumber in my working career, and have met people from all walks of life; here at the Therapy Centre, I've found lots in common with so many people here, and laugh a great deal when we're all together.
We've made great friendships, and will exchange telephone numbers in order to stay in touch; we hope to continue to meet even after our therapy sessions have finished.
Rob – I've been very lucky and blessed with an interesting life.  I had my own taxi cab firm in central London, then noticed there was a greater need for ambulance services.  I introduced a private ambulance service, which supports the London hospitals including the NHS. I've had an interesting and varied career, and have been fortunate to learn to fly a plane amongst many other interesting things.
I've been managing my brain cancer diagnosis since May 2022.  I had been very fit and healthy until then. I woke up one morning to find myself shuffling, and not really able to pick my feet up.  After scans and consultations with the neurological doctor, it was a shock, as there really hadn't been any warning that I was becoming unwell.
Rob who is 67 years of age, said, "We take our health for granted, I'm doing as much as possible to remain active, and enjoying life as best I can.  I have my wife, children and grandchildren for support which is really special for me.  My visits to the Pilgrims Therapy Centre keep me feeling very positive, and I enjoy the company of others using the Wellbeing services, and the Pilgrims teams are always there full of positive messages, and useful information about support services, and how to look after myself."
Eddie – I was a plumber and have worked in a huge variety of properties for a wide variety of companies and people.  We often laugh a lot while we're here at the Therapy Centre, when we're chatting about our life's experiences.  I can't express enough how important the groups are, to keep everyone focused on looking after themselves and making the very most of our own skills.
Although I have to keep my meals to quite simple foods, I'm always so well catered for at the group lunches.  It's a pleasure to sit and catch up with the group, we talk about our families, what's happening locally, how we're all feeling, what happens next and so much more.  But perhaps more than any other thing, we laugh and relax with the Pilgrims care team.
The gentlemen are soon to move on from Pilgrims Hospices Wellbeing Groups, having had support to give them skills and confidence to live life to the full in every moment.  With new friendships forged, they hope to continue to meet socially and share their experiences moving forward.
Pilgrims team of nurses, doctors and therapists work together to offer a range of Wellbeing programmes to support patients, their families and friends.
Offering services to help people live better at home; these are available through the Wellbeing and Social Programmes held at our Therapy Centres.  By helping to manage symptoms, the care teams can support people to cope with the changes in their lives, giving practical advice, and helping people to think about the future.
Pilgrims' Wellbeing Programme is free if you live in east Kent and you have been diagnosed with an incurable illness. It aims to enhance your wellbeing – in mind and body. To find out more click here.
---
Each year Pilgrims supports thousands of local people coping with a life-limiting illness and their families. The charity offers a range of services: from end-of-life care given on its wards, to its Wellbeing Programme supporting people after they are diagnosed to live well and stay independent.