31st October 2019
Folkestone Channel Rotary hand over the sleigh reigns after more than a decade of Santas Fun Runs
Pilgrims Hospices are incredibly excited to be taking up the sleigh reigns of the fabulous Folkestone Channel Rotary's Santas Charity Fun Run. The local charity will merge the well-known and much-loved Folkestone festive run with their own already successful Santas on the Run fundraiser. Folkestone Channel Rotary will continue to offer Pilgrims event support, ensuring this important local experience continues to be a popular festive feature in Folkestone and to help the fundraiser to grow from strength to strength.
---
Folkestone Channel Rotary hosted the Folkestone Santa Charity Fun Run for 14 years and raised an incredible £110,000 for local charities over that time. They have decided to invest and focus this success in to the growth of other important local events such as their triathlon, cycle ride and more.
Come and register for the jolliest jog of the year!

Louise Newman, Community Fundraising Manager
Louise Newman, Pilgrims Hospices Community Fundraising Manager said:"When Folkestone Channel Rotary approached us with the offer of the Santas fun run earlier in the year, we thought it to be a perfect match. My team responded with an enthusiastic and delighted yes please!
"I would just like to add a massive thank you for all the help and support that Folkstone Channel Rotary are giving us in the run up to our new 'Santas on the Run' event.
"We are very grateful they have passed on this fantastic community event; we intend to continue building on the success Folkestone Channel Rotary has achieved with this truly entertaining festive run and, important fundraiser for local hospice care."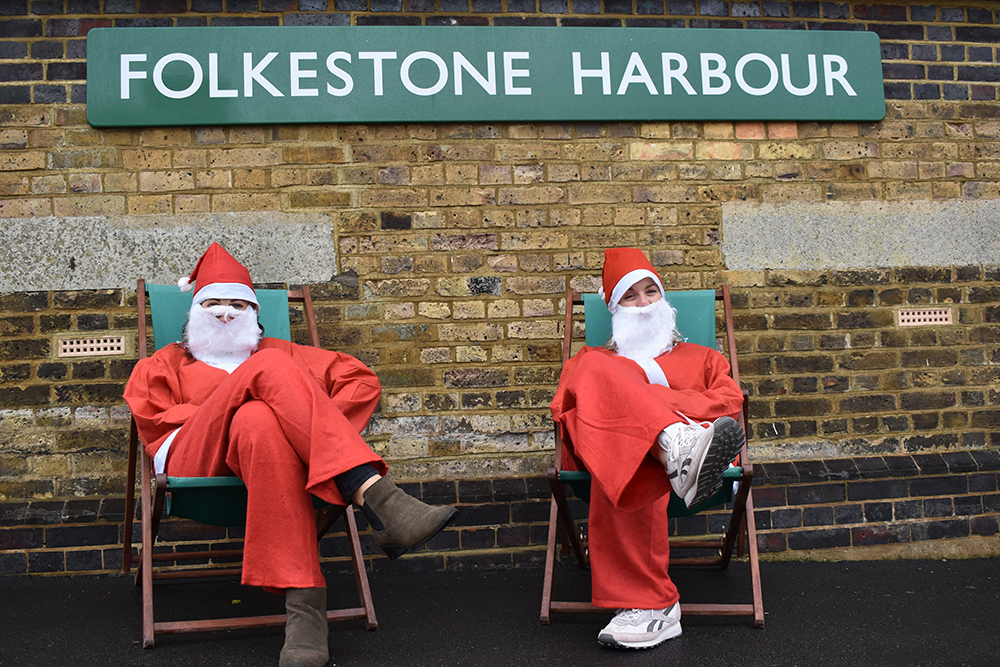 Counting down to Christmas
Click here for more event information or to register for the jolliest jog of the year and help raise much needed funds for local hospice care.
Santas on the Run! is an event for everyone, you can walk, run, jump or skip along the seafront with friends and family to get you all in the Christmas spirit. Join your local 3k or 5k fun run or challenge yourself to all 3 and join our tri-series! You'll get to enjoy Christmas come early in 3 seaside towns whilst testing yourself to complete 3 festive fun runs, and you'll get 3 festive medals plus a special fourth Christmas present medal for completing the challenge!
Edwin Beddy, President of Folkestone Channel Rotary told us: "Channel Rotary has been a firm supporter of Pilgrims Hospices over the years and we have developed a close and happy association.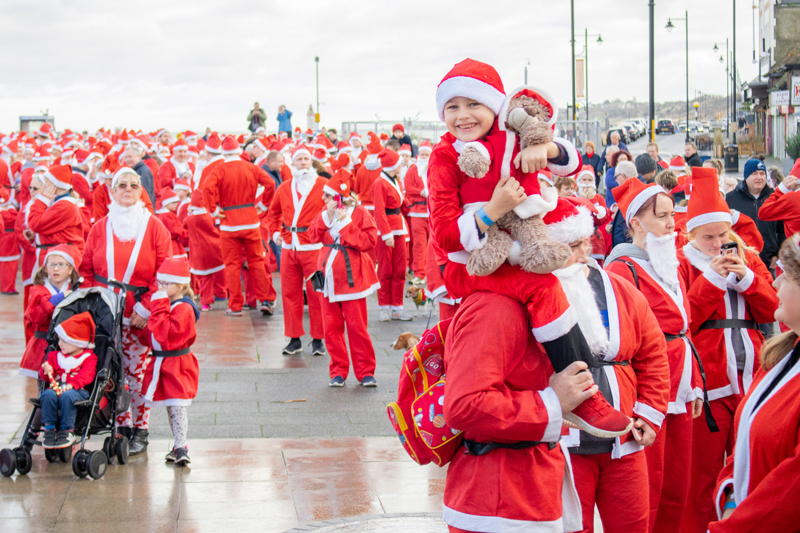 "Our annual Folkestone Santa Run has been a firm favourite in the Kent Christmas programme since 2004 and has raised over £75,000 for local charities including Pilgrims Hospices.
"We now feel it is the right time for the Santa Run to become a much larger spectacle for the benefit of the broader Kent community and so have agreed that future runs will be organised by Pilgrims Hospices in association with Channel Rotary.
"We wish Pilgrims every success as they expand the Folkestone Santa Run into additional runs in Herne Bay and Margate between 1st and 15th December and look forward to working with them in the years to come."
You can join in with the fun and register with our Early Bird pricing at pilgrimshospices.org/santa.
Check out event registration information here.
Folkestone Channel Rotary are a group of nearly 50 like-minded people from all walks of life, active and retired, who work together to support the community of South East Kent with funds and many hours of hands on expertise. The rotary club generously support many local charities and good causes in east Kent, Pilgrims Hospices being one of these. Folkestone Channel Rotary has raised over of £14,000 for local hospice care since 2001. Among many methods of fundraising, over £5,000 has been raised through the rotary club's donation from their annual Santa Charity Fun Run.
---
If you or someone you know is coping with a life limiting illness and you think you may benefit from Pilgrims support, talk to your GP or Healthcare Professional about the options or click here to read about our Wellbeing Programme.