17th December 2018
Jacky experiences the reality of life in a hospice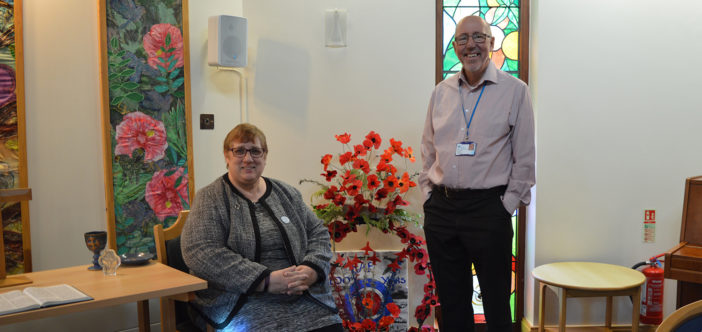 Jacky Darling, a minister in training from St Nicholas Church in New Romney, is gaining experience in the reality of life in a hospice with Pilgrims at Ashford.
---
Jacky joined Geoff Walters, Head of Spiritual Care Services for Pilgrims Hospices, as part of her training programme. Geoff said: "By sharing various events and aspects of hospice life, we hope Jacky will have an understanding of what a hospice is and does and can, therefore, be supportive to people she meets in the community facing life-limiting illness."
Jacky explained: "It's very important to be knowledgeable and positive for people within the community who may have little or no experience of hospice services, leaving them feeling negative and vulnerable.
"My time with everyone at Pilgrims is proving really inspirational. I'm now confident that I can share my experiences and explain how Pilgrims can offer a variety of services to help people who need care, and their families, to live well in the moment. It's a privilege to share such important information with our community; the charity is providing a vital service.
"I've been given opportunities to spend time with the nurses in their morning meetings, attend the Therapy Centre and get to know day patients, staff and volunteers. There's so much more to the hospice than a bed on a ward."
Pilgrims Hospices cannot change what's happening but they can make a difference to patients and their families in such difficult times.

Jacky Darling
Jacky had a career in teaching, taking early retirement from her role as a Primary Head Teacher in order to pursue a spiritual vocation. She led the Trees of Love service held at St Nicholas Church in New Romney on Saturday 1 December and will be ordained in June 2019.
Jacky added: "I enjoyed the Trees of Love service, it was uplifting and comforting to so many local people whose loved ones or friends have been cared for by Pilgrims (and other bereaved people in the community). I welcomed this opportunity to celebrate their lives and wish everyone a peaceful Christmas.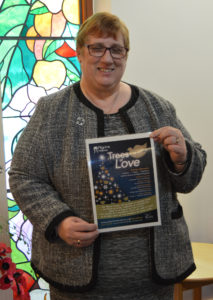 "Pilgrims Hospices cannot change what's happening but they can make a difference to patients and their families in such difficult times. It's a moving experience and I'm grateful to be part of the Pilgrims community. I see the passion that surrounds the staff at the hospice; my experience here will enable me to help people understand the breadth of services available and why the charity needs continued support from the community."
Pilgrims' offer support for people of any religion or belief. The term 'spirituality' covers a wide range of belief systems, from membership of a faith community to those who follow a more personal philosophy or lifestyle. This pastoral and spiritual care (often known as chaplaincy) is available for people who are religious and can equally be a source of support for people of any belief. Facilitating places like Jacky's is something that Pilgrims Hospices Spiritual Care team does regularly across all sites. Click here to find out more.
---
Each year Pilgrims supports hundreds of local people coping with a life-limiting illness and their families. The charity offers a range of services: from end of life care given on its wards to its Wellbeing and Social Programme supporting people after they are diagnosed, to live well and stay independent.