19th November 2018
Trees of Love: Vanessa's story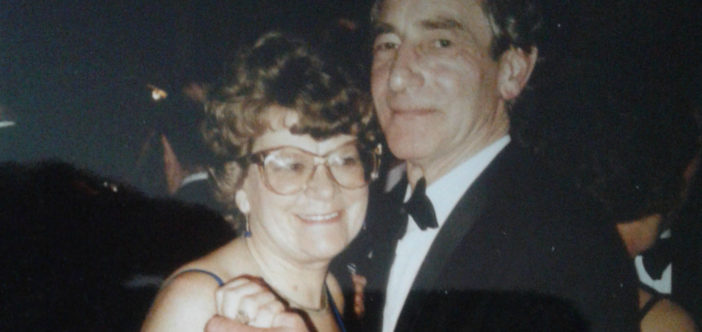 Vanessa Oakley attends Trees of Love every year in memory of her parents, Betty and Deryck. Here, she explains why it's so important to come together with others at Pilgrims Hospices' annual festive remembrance.
---
Mum and Dad were married for over 54 years and were the most wonderful, kind and loving parents. They were so generous, loved hosting parties and wouldn't let anyone bring anything. There would always be so much food! Mum would say, "No one's leaving my house hungry" and they wouldn't! I have such fond memories.
The important part of the service for me is when the lights on the tree are lit; l believe our loved ones join us at this point.

Vanessa
Mum was referred to Pilgrims in 2004. I remember the most incredible hospice nurse coming to visit us. She supported us at home until eventually Mum was admitted into the hospice. I couldn't believe how different it was to a hospital – it was so much like home! There was such a relaxed atmosphere; I enjoyed going to visit Mum every day. Everyone knew who we were and remembered us, we were even allowed to bring in our dogs. Every day the cook would come around and ask us, "What would you like today?" and he'd always say, "Is your dog here?" and if he was he'd bring him something too. It was such a caring place; we felt so looked after. Mum died peacefully at the hospice with her dogs Topsey and Tommy snuggled up on the bed with her.
It was only a few years later that Dad passed away, and each year since we have come back to the hospice to remember them at Trees of Love. We write a dove to Mum, Dad and the dogs, Topsey and Tommy.
For me, the most important thing about Trees of Love is that it brings people together for the same reason: to remember our loved ones. I feel that we're all supporting each other just by being there side by side, whether you know the person next to you or not. The important part of the service for me is when the lights on the tree are lit; l believe our loved ones join us at this point, and even after 13 years it still brings a tear to my eyes.
---
Trees of Love outdoor services will take place at our hospices in Ashford, Canterbury and Thanet at 5pm on Saturday 8 December 2018.
We also offer indoor services with seating across our east Kent community:
St Nicholas Church, New Romney, 5pm on Saturday 1 December
All Souls Church, Cheriton, Folkestone, 5pm on Sunday 2 December
Assembly Rooms, New Romney, 3pm on Saturday 8 December
St Peter and St Paul Church, River, Dover, 4pm on Sunday 9 December
Barham Crematorium, Barham, 4.30pm on Friday 14 December
Charing Crematorium, Charing, 4.30pm on Friday 14 December
To dedicate a dove in memory of a loved one please visit pilgrimshospices.org/treesoflove or contact Sophie or Sara:
---
If you or someone you know is coping with a life limiting illness and you think you may benefit from Pilgrims free services, talk to your GP or Healthcare Professional about your options or click here to read about our Wellbeing and Social Programme.